Message From the President

Dear Prospective Student: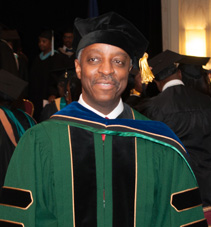 Before coming to University of the Potomac, Dr. Clinton Gardner served as President and CEO of Northcentral University in Arizona. Prior to that he spent five years as President and Provost of Argosy University-Phoenix Campus. Dr. Gardner has his Ph.D. in Higher Education Administration and undergraduate and graduate degrees in Economic.
Whether you are taking the initial first step of visiting this website to find out more about our degree programs, or you are starting school shortly, I want to congratulate you on your decision to pursue a degree in higher education. Education remains one of the best investments anyone could ever make, and there is no time like the present to make this critical investment in yourself to begin building a better you! At University of the Potomac, our goal is to educate the leaders of tomorrow by arming them with the theoretical and practical mastery needed in today's extremely competitive workplace. We are deeply committed to an education that can best be described as affordable excellence. We have an accessible faculty dedicated to teaching, a commitment to the business sciences, and an educational model that encourages real world experiences. Most of all, we are committed to helping our students not just enter college but graduate from college. Our small but progressive school offers hands on personal attention to meet our busy student's needs. We offer the convenience of time, location and program pace to help you balance your life with your education. But the aspect I am personally most proud of is the "human" approach to education we practice here at University of the Potomac. You will not be just another student. We thrive on getting to know our students on a personal level, and using the power of education to transform the lives of students as they pursue their professional goals – regardless of their starting point. We know you want to do this – for yourself, for your kids, and for the respect you will feel and earn from others with a college degree. My commitment to you is that University of the Potomac can help you get there. Welcome!
Dr. Clinton Gardner
President & Chief Executive Officer
University of the Potomac