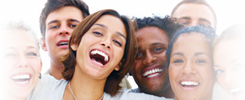 Student Orientation
All new students are required to attend an orientation session, which familiarizes them with the College's academic policies, teaching philosophies, curriculum, and related services. Each new student is required to complete the Policy and Procedure Form and the Computer Usage and Electronic Communication Policy Form indicating they have reviewed required guidelines set forth by the College and officiating agencies. All new students receive a copy of the current College Catalog.
Student Registration
Registration is the process of enrolling in courses at University of the Potomac. Students register at the College through Student Services. Continuing students are required to register at the beginning of each semester. By registering at University of the Potomac, students agree to all rules and regulations of the College. Students also must adhere to all financial aid regulations before registering for courses.