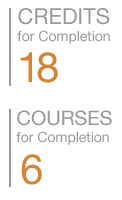 The Business Accounting Advanced Certificate
Do you enjoy working with numbers and finances? The Business Accounting program at University of the Potomac is designed to provide students with a broad and thorough understanding of accounting principles. Update your skills and advance your career with a Business Accounting certificate from University of the Potomac.
Earn your Business Accounting certificate online or at our Northern Virginia or Washington DC campuses. Request more information or call (888) 635-1121 to learn more about our Business Accounting program today!
If you are interested in a more in-depth understanding of accounting, University of the Potomac also offers an Accounting Bachelor's Degree Program and an Accounting Associate Degree Program.
Accounting Certificate Program Information
Six courses are required for the Business Accounting Advanced Certificate program.
Advanced Certificate in Business Accounting (18 credits)
Required Courses:
ACCT 290 Intermediate Accounting I (3 credits)
ACCT 306 Intermediate Accounting II (3 credits)
ACCT 308 Assurance and Audit Services (3 credits)
ACCT 402 Corporate Taxation (3 credits)
ACCT 408 Forensic Accounting (3 credits)
ACCT 450 Advanced Financial and Tax Accounting (3 credits)
TOTAL CREDITS – 18 CREDITS