The Associate's Degree in Accounting
Potomac offers both an online associate's degree in accounting as well as on campus locations for students to take their classes. Depending on your career goals and life's demands, the Potomac associate's might be a good fit for you. Some students choose an accounting associate's because the job they seek only requires that level of education. Others choose to get their associate first in order to enter the workforce faster in their field and then continue with their bachelors while they are working. Both are smart choices and we encourage you to research the career you have your sites on and determine if getting your associate's in accounting might be a good start for you. Contact us any time if we can be of help in your planning.
Associates Degree Overview
Associates in Accounting  Overview
Potomac's Associate Degree in Accounting is a two year program that prepares students for para-professional accounting careers.  Just like our other associates programs, students have flexibility and benefits that will help give them greater chance of success including:
Careers
Associates Accounting Careers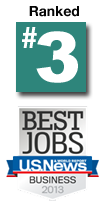 Accounting positions are ranked #3  of best business jobs by U. S. News and World Report.  With an Associate's Degree in accounting from University of the Potomac, you will be able to assist in auditing and tax preparation. This program enables students to experience the necessary education required to analyze transactions, prepare journal entries and manage a company's payroll or books. Students graduating from this program will have the skills for entry level positions in accounting like accounts receivable clerk, accounting assistant, bookkeeper, auditing clerk, payroll clerk and more.
Bookkeepers, accountants and auditing clerks are an organization's financial record keepers. Their duties are imperative to the survival of a business, no matter how large or small. They may update and maintain one or more accounting records. They also tabulate expenditures, receipts, accounts payable and receivable and track profit and loss. They represent a wide range of skills and knowledge, from full-charge bookkeepers who can maintain an entire company's financial records to accounting clerks who handle specific, individual business accounts.
According to the U.S. Department of Labor Bureau of Labor Statistics, bookkeeping, accounting, and auditing clerks held more than 2 million jobs in 2004 and are found in all industries and at all levels of government. Local government and the accounting, tax preparation, bookkeeping, and payroll services industry are among the individual industries employing the largest numbers of these clerks.



Program Outline
Associates in Accounting Program
The curriculum for both our online associates in accounting program and our campus programs is the same so whether you take your classes online or in the classroom you will finish with the same valuable skills and degree.
Students will learn to summarize financial information by taking classes that teach them to prepare and interpret financial statements. This helps in assisting with managerial decision-making. Following graduation, accounting students can obtain employment as a bookkeeper, an accounts receivable clerk, and other entry-level business positions.
Begin taking accounting courses at our school today!
Learn to prepare and summarize financial documents
Jobs are available as a bookkeeper, accounts receivable clerk, and other entry level positions
Develop accounting skills to apply towards another degree or enter the workforce
Learn accounting software and techniques
Accounting Program Outline
To receive an Associate of Science degree in Accounting, students must earn 60 semester credit hours. Unless noted otherwise, all courses carry three semester credits hours. Program course requirements are listed in the credit requirements section below.
Associates in Accounting Program Mission
The mission of the Associate of Science degree in Accounting is to studentsor entry-level positions as bookkeepers, accounts receivable clerks and accounts payable clerks. Students learn to analyze transactions, prepare journal entries and post to ledgers.
Program Learning Goals
Graduates of the Associate of Science in Accounting are able to:
Recognize ethical and social responsibilities of accounting professionals and apply professional judgment to present financial statements fairly.
Prepare financial statements and managerial reports using various accounting standards, theories and techniques.
Demonstrate proficiency in written and oral business communication skills appropriate for accounting professionals.
Work in teams, organize and assess accounting data to propose solutions for business problems.
Use technology to solve accounting problems and improve decision-making skills.
Program Outline
To receive an Associate of Science degree in Accounting, students must earn 60 semester credit hours. Unless noted otherwise, all courses carry three semester credits hours. Program requirements are listed on the following page.
ASSOCIATES OF SCIENCE IN ACCOUNTING
General Education Requirements (18 Credits)
COMP 125 Computer Fundamentals
ENGL 101 English Composition I
ENGL 102 English Composition II
GNED 112 Student Success Strategies
MATH 106 College Mathematics
Core Courses
Required Management Courses (18 Credits)
BUS 110 Foundations of Business
BUS 202 Critical Thinking and Decision making
BUS 230 Business Ethics and the Legal Environment
ECON 201 Principles of Economics
MGMT 230 Organizational Behavior
MRKT 110 Principles of Marketing
Required Accounting Courses (21 credits)
ACCT 101 Principles of Financial Accounting I
ACCT 110 Principles of Financial  Accounting II
ACCT 214 Accounting Information Systems
ACCT 220 Payroll Accounting
ACCT 290 Intermediate Accounting I
FIN 230 Fundamentals of Finance
Electives (3 Credits)
TOTAL CREDITS – 60 CREDITS
Tuition & Fees
Associates in Accounting Tuition and Fees
The average cost to matriculate for an Accounting Associate Degree is $32,460. The total estimated cost for books and supplies for the entire program is $5,000.
Cost by Credit

All Students

$541 per credit
($1623 per 3-credit course)
Active  Military &  Immediate Family

$250 per credit
($750 per 3-credit course)
Veterans

$250 per credit
($750 per 3-credit course)
Helpful Links:
More tuition details >>
Financial Aid >>
Median Loan Debt: For all students completing this program between July 1, 2009 and June 30, 2010, the median cumulative loan debts for each of the following are: Federal student loans: $24,860 Private loans: $0 Institutional finance plans: $0 Note: This preliminary median loan data is pending confirmation from the U.S. Department of Education. It reflects total debt, including costs of living, while the median loan amount prescribed under the Department's gainful employment regulations excludes such costs of living.