Certificate in Information Assurance
Reach your career goals with an information assurance certificate
Our professional certificate programs provide vocational skills for many career pathways. These programs will also provide credentials for existing University of the Potomac students to enable career advancement while they are completing their associate's or bachelor's degree programs. Certificate programs are available online or on campus.
| Location | On-Campus | Online |
| --- | --- | --- |
| | | |
| | | |
| | | |
Information Assurance Certificate Overview
The information assurance certification program is a short program providing vocational skills into a technology career pathway specific to the protection of information. The information assurance professional specialist needs to have a good understanding of computer network design and infrastructure. Students with information assurance training will have skills that enable them to put safeguards and quality control into place for the protection of data. They play a very important role in ensuring that an organization's data does stays safe and does not get misused.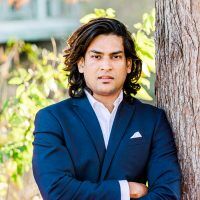 Aditya Singh
Principal Business Data Analyst
"Potomac is more than an education. The university provides better career prospects, valuable employability skills, personal development and a world of opportunity. "
This Program Is Accredited By
Information Assurance Courses & Curriculum
To receive an Associate of Science degree in Accounting, students must earn 60 semester credit hours. Unless noted otherwise, all courses carry three semester credits hours.
CBSC 225 Security and Data Loss Prevention (3 credits)
CBSC 230 Computer Forensics (3 credits)
CBSC 245 Cyber Law (3 credits)
CBSC 265 Network Security Management (3 credits)
COMP 150 Information Systems Essentials (3 credits)
MGMT 210 Introduction to Project Management (3 credits)
Information Assurance Requirements & Outcomes
General Admission Requirements
Complete an admissions interview conducted in person or via online methods.
Sign and submit an attestation of high school (or equivalent) completion.
Equivalencies include a GED Certificate. Home schooled students must present a diploma that meets the requirements of the state in which it was issued. (Students with non-US credentials please see International Student Admissions Requirements below).
Submit a completed application
Arrange for official transcripts from all colleges/universities previously attended to be submitted to the Office of Records and Registration, University of the Potomac.
Submit grade reports or scores from any recognized college equivalency examinations (e.g., CLEP, DANTES, and Advanced Placement).
Submit certificates from any corporate education training or professional development programs. (Note: An ACE evaluation form may be required to determine appropriate credit for corporate educational training.)
Submit military training documents. (Note: An ACE military evaluation form may be required to determine appropriate credit for military training.)
Hear What Our Graduates Are Saying
The classes are very dynamic and you have the opportunity to be able to work while you study since they also offer online classes. I enjoyed academic challenges and the diversity of people at the University.
Potomac is more than an education. The university provides better career prospects, valuable employability skills, personal development and a world of opportunity.
Potomac professors are so friendly and the guidance they provide in courses work is amazing. They explain concepts with relevant examples.
The university is located in Washington D.C where you have easy access to public transport and all the Government offices are near by so you can spend time post college in the DC area.
I really enjoyed the course work and being able to complete it when it was convenient for me. The course schedule allowed me to make progress quickly.
UOTP has one of the best professors, who are always there to guide you throughout the education process
Potomac College allowed me to return on more than one occasion to complete my degree. The admissions and financial staff worked together to help me reach my goals.
I liked the sense of a small community and the friendly staff support. I also liked the fact that students come from different parts of the world and the culture exchange.
I was able to receive an exceptional experience by learning in a Hybrid environment, where lectures and exams were held with the same level of intensity and tension as I would be in the classroom.
Want to learn more about University of the Potomac?
Complete the simple form – it just takes a minute!
Invest in yourself by finishing your degree.


Take classes online, on campus, or both.


Finish faster. Save more.
This will only take a moment.
Bachelor in Accounting Jobs & Opportunities
Accounting careers continue to show very strong growth and opportunities in the future. Accounting positions are ranked #3  of best business jobs by U. S. News and World Report. This program enables students to experience the necessary education
required to analyze transactions, prepare journal entries and manage a
company's payroll or books.
Bookkeepers, accountants and auditing clerks are an organization's financial record keepers. Their duties are imperative to the survival of a business, no matter how large or small. They may update and maintain one or more accounting records.
They also tabulate expenditures, receipts, accounts payable and receivable and track profit and loss. They represent a wide range of skills and knowledge, from full-charge bookkeepers who can maintain an entire company's financial records to accounting clerks who handle specific, individual business accounts.
Bookkeepers are responsible for recording a business' financial transactions, including payments, invoices, checks and bills.
Accounting assistants use software programs to perform a variety of financial-related tasks, including accounts payable, accounts receivable, billing, collections, and reconciliations.
Payroll clerks are responsible for assisting in managing employee compensation, including verifying hours worked, completing weekly payroll and process employee status and information changes.
Accounting technicians are responsible for assisting in the reporting and maintenance of financial accounting data, records and transactions.
Accounts Receivable Clerk
Accounts receivable clerks process and reconcile financial transactions related to incoming receivables, including processing invoices, credit memos, payments, and deposits.
Sales Managers direct the business development activities of sales personnel, ensuring revenue targets are met or exceeded.
Explore more Jobs & Careers for students
with an Associate Degree in Accounting
Business Administration Concentrations
Associate of Science in Accounting Frequently Asked Questions