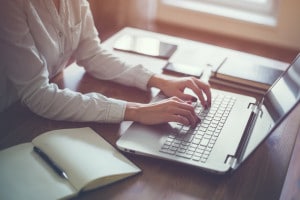 More and more learners choose online studies rather than a traditional brick and mortar school. Students cite work-life balance as a major reason for preferring learning online rather than enrolling at a local campus that requires a time commitment dictated by the school. With the advent of video sharing, podcasts and blogging, using the Internet for formal learning is indeed becoming a viable choice.
Yet have you ever wondered what it takes to be successful in this classroom setting? While attrition can occur in any learning environment, online studies give you the unique opportunity to set yourself up for success from the get go. Five successful learning strategies make it possible.
Technical requirements catalog. There is nothing more frustrating than getting ready to attend an online lecture only to find out that your computer speakers do not work. Find out ahead of time what your systems requirements are. For example, you need a way to connect to the Internet, run a Pentium 400 MHz processor and meet certain operating system requirements. Reading through our frequently asked questions (FAQ) section lets you check off the requirements that your computer and peripherals meet.
Goal setting for personal buy-in. Next, create a list that outlines why you are signing up for an online class. Are you pursuing a degree? Are you seeking career advancement? Down the line, when you find yourself feeling tired or unmotivated, reading over this list can motivate you to push through and keep going.
Study space setup. Although it is true that with a laptop and Internet access you can study anywhere and at any time, you will be wise to set up a dedicated study space. If you have a home office or guest bedroom, you are ahead of the race. Nevertheless, you do not need this amount of space to succeed in the virtual classroom. Even if you simply dedicate a desk or small table to your schoolwork, you create a space that is solely used for your studies. There, keep your notes, syllabi and books. Family members and guests in your home should know not to disturb anything on this table.
Calendar planning. Flexibility is the main reason for choosing the online classroom environment. That said, it is always a good idea to dedicate a wall calendar to chart your study time, online learning hours and syllabus-specific due dates as well as events. Doing so offers you a framework for time management that lets you allocate time to work, family, hobbies and learning. Some of our students have found it useful to color-code the calendar entries to ensure a consistency in your study habits. When you need to move a study time – no problem! Simply schedule it for a different time slot.
Resources inventory. On the Internet, you find spelling and grammar checkers, study materials and podcasts that are related to your field or degree program. The University of the Potomac partners with SmartThinking.com for unrivaled online tutoring. Knowing ahead of time where to turn when you need help eliminates frustration and ensures that you have all your resources readily available.
With the breadth of online degree opportunities at our school, training for a new career or professional advancement is a snap. The convenience of the virtual classroom eliminates obstacles and hurdles that keep learners at traditional schools from pursuing or finishing their coursework. When you employ just the right strategies to prepare yourself for online studies, stacking the deck in your favor is no problem. Equipped for achieving success from the start, you will find your coursework enjoyable. Contact us today to learn more and to get started.
Interested in pursuing a degree?
Fill out the form and get all admission information you need regarding your chosen program.
This will only take a moment.