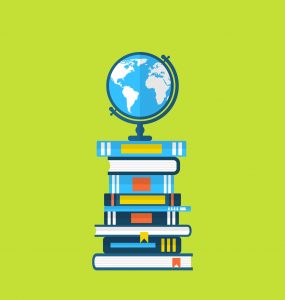 Financing an education abroad for international students can be difficult, especially with the differences in cost-of-living and currency conversions. With the cost of out-of-state tuition, additional admissions fees and exams, and the usual out-of-pocket expenses for even the plane ticket to and from school and classroom materials, paying for college as an international student can be stressful and expensive. Even more, it can be hard to find good, reputable international students scholarships. That's where we come in: we want to help you gain confidence in your skills and in your ability to fund your education. Here's a few resources to keep in mind when applying for financial aid and looking for scholarships suitable for your degree program and career paths.
Education USA is a thorough resource center sponsored by the U.S. Department of State to help international students connect to one of their 400 resource centers around the world, in order to give comprehensive advice and resources to prospective international students coming to the U.S. for studying. Education USA's website not only gives valuable information about applying to a university, understanding U.S. school culture, and even how to obtain a student visa, but the website includes a scholarship finding database. Students can search the data by country of origin, the state for study, and the degree type the student is pursuing.
If the online website doesn't answer your questions, you can also visit an advising center located in your country. Many of these centers can help prospective students one-on-one and occasionally provide events for students to connect and learn together.
2. Unigo
Unigo is a great starting place for students looking for scholarships, loan advice, or even jobs and internships. Their database currently holds over 3.6 million scholarship opportunities which can be filtered according to your profile. In addition, the website provides college descriptions, reviews by students, and even a new roommate finder feature for students to connect for housing. There is also a lot of information for both international students and U.S. residents about programs like FAFSA, how to pay for student loans, or even how to maintain a better budget while in school. Unigo also offers its own scholarships for registered members as well. In order to get access to all the site's benefits, you will have to create an account, which will help you also curtail your scholarship search.
International Scholarships is a searchable database specifically for students wanting to study abroad. Many of the scholarships can be organized by country of origin and field of study, to help you narrow down the results and make your efforts easier. In addition, the website provides a few resources, information about finding loans, and current news about international students in the United States. Though plain, it should not be overlooked as a resource for potential scholarship money.
4. Cappex
Interested in pursuing a degree?
Fill out the form and get all admission information you need regarding your chosen program.
This will only take a moment.
Cappex is another site that is similar to Unigo, where students sign up to find scholarships. However, Cappex specializes in merit scholarships, where many student awards are renewed throughout the student's education, which means savings year after year. Cappex also helps students narrow down their applications by providing the likelihood for competition and what scholarships are best suited for your listed skills, interests, and accomplishments. And like Unigo, Cappex offers their own scholarships for registered members.
Overall, these 4 resources can be a great start for your scholarship search. Try one or all four: each site has their different strengths, which can help you target the right scholarships. And remember, you improve your chances by just biting the bullet and applying: don't wait! To learn more about financing your U.S. education, contact us.