University of the Potomac Faculty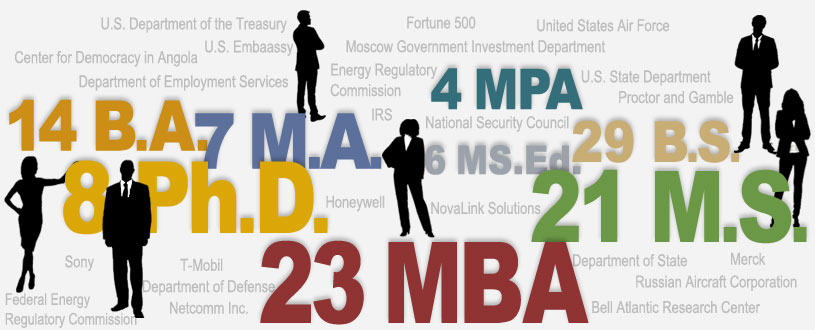 At University of the Potomac (UOTP) we are extremely proud of our dedicated professional faculty. All faculty members have excellent academic credentials and have served in positions outside the College that enable them to bring real world expertise to the physical or virtual classroom. Our faculty is diverse, coming together from many nations.
All students enrolled at UOTP are here to further their careers and earn an advantage for a fulfilling future. Our faculty's real world knowledge and experience aid students in preparation for the realities of their chosen fields.
Click on a name below for more information:
ALDAMA, EDWARD, MBA MBA/Information Technology,Western International University B.S. Business Management, University of Phoenix Project Management Certificate,University of Phoenix
Professor Aldama has over 30 years of business management/development experience in a variety of fields, including high-tech equipment design, aerospace, information technology and education.
Past positions included; Patent draftsman, EM Designer, materials control manager, project manager, multi-site campus IT manager, and Enterprise Change Management manager. Currently, Mr. Aldama is a Sr. Coach delivering 1-on-1 personal and professional development coaching and goal setting success workshops in Phoenix, AZ. His published works include The Success Habit Secret, A 21-Day Success Program.
ANDERSON, NONI, MBA MBA, Business Administration, University of Phoenix BS, Computer Networking, Strayer University
Professor Anderson has over 18 years' experience in the IT field specializing in computer networking, systems administration and cloud computing as well as 15 plus years of IT Management experience, 10 plus years of Project and Program Management experience, 14 plus years of Systems Engineering, and architecture experience. Her knowledge base includes systems engineering processes, system design, system integration and implementation, server and desktop configurations, installations, administration and O & M, technology evaluations, system life cycle management, and maintaining of project schedules. Other skills include business process management, system testing, system documentation, system requirements gathering, disaster recovery plans and system security plans and system Certification and Accreditation documentation, processes and implementation.
BARNES, LARRY, J.D. J.D., Stetson College of Law B.A. History, University of South Florida
Mr. Barnes worked for Attorney's Title Insurance Fund in their legal department for many years. In this position he handled real estate title questions and also title claims amounting to millions of dollars. He opened his law practice and has practiced as a sole practitioner primarily in the Real Estate and Probate Law areas.  He has taught as an adjunct instructor at Seminole Community College and Valencia Community College in Central Florida.
BOAYUE, JR, JOSEPH, MBA MBA, Health Services Administration, Strayer University M.S., Information Systems, Strayer University B.S., Business Administration and Transportation Management , University of Maryland
Professor Boayue  joined UOPT three years ago. He has facilitated undergraduate level courses in management, leadership, organizational development, public administration, and project management.  Before dedicating himself to higher education, Professor Boayue served in various managerial positions including Director of Transport at the University of Liberia and Senior Manager at the United States Embassy in the General Services Operations. He has 20+ years of extensive experience in operations and facility management, customer service, business retention and business  and Health Care administration. In Health care, he served as Patient Care Manager at ICARE Home Care Services in Virginia where he managed physical therapist, occupational therapist, nursing, and home care services for patients at their homes.
BODINE, KATHLEEN, M.S. M.S. Education, Curriculum Design for Online Education, Cappella University B.S. Psychology, Minor Biology, Virginia Technical University
Professor Bodine has been working in adult education for over ten years as both and educator and an administrator.  She helped launch the online program for Remington College as well as their student support department.  She played a key role in the development and continued assessment of curriculum as well as supervision over the general education department.  She currently teaches psychology, biology, computer science, and student success.
BOOKER, JAMES G., Ph.D. Ph.D. Higher Education Administration, Capella University M.P.A. Public Administration, the University of Central Florida B.S. Administration, N.C. State University
Dr. Booker joined UOPT having taught at the University of Phoenix, Walden University, Ashford University, and Barry University. He has taught both undergraduate and graduate level courses in management, leadership, organizational development, public administration, and research methods. Dr. Booker has chaired over 30 doctoral committees with UOP and Walden. Before dedicating himself to higher education Dr. Booker served as a state court administrator and assistant city manager.
BURNEY, AUGUSTA J.D. Marquette University B.S Business Management, DeVry Atlanta, GA Project Management Certification, Boston University
Professor Burney has been a Federal Relations and Contracts Manager for BRE Consults in Washington, DC. Dr. Birney has also been an Adjust Professor at Concordia University and Houston Community College where she prepared semester curriculum and lectured on coursework that included Property and Business Law. Professor Burney teaches Law at UOTP.
CAMERON, GERALDINE, MBA MBA, Marketing, Southeastern University, Washington D.C. B.A., Elementary Education grades Pre-K, Middle School, University of the D.C.
Professor Cameron has spent 27 years with the District of Columbia Public Schools and Prince George's County Public Schools, MD as a Project Coordinator Reading First Grant Prince George's CPS. She is a former adjunct at Coppin State University, Bowie State University, MD and George Washington University, Washington DC. Professor Cameron currently teaches Business and Business Management courses at UOTP.
CHUKWU, KINGSLEY MPH, Health Promotion and Disease Prevention, The George Washington University M.A., Arts Education & Non-Formal Ed./Adult Learning, American University M.A.,Public Communication, Cross Cultural Communication and Social Marketing, American University M.Ed., Special Education, George Mason University Certificate, World Religions, Conflict Resolution and Analysis, George Mason University , Intitute of Conflict Resolution and Analysis B.A., Philosophy and Liberal Arts, Howard University
COFFEE, GERRY, Ed.D. Ed.D., Educational Leadership, Bowie State University M.P.A. Master of Public Administration, Bowie State University B.A. Psychology, Fisk University Certificate in Project Management, The George Washington University
Dr. Coffee joined UOPT having previously taught at Bowie State University. He has mainly facilitated graduate level courses in pubic administration, business administration and education.  Dr. Coffee has presented education presentations at universities on student diversity. Prior to joining UOTP, Dr. Coffee worked for Deloitte, LLP and five federal agencies over his tenure with the government.
DERESHIWSKY, MARY, Ph.D. Ph.D., Business Administration – Quantitative Methods, University of Massachusetts at Amherst M.S., Accounting with Quantitative Methods, the University of New Haven B.S., Education, Mathematics Concentration, Southern Connecticut State University
Dr. Dereshiwsky develops and teaches online courses in statistics, research and qualitative analysis methods in both education and business. In addition, she has served as chair, co-chair or member of close to 200 doctoral dissertation committees. Her publications include peer-reviewed articles in various aspects of online teaching and learning. She has also made over 50 presentations at local, national and international conferences. She has served as assistant evaluator of the Arizona Career Ladder Teacher Incentive and Development Program, the Winslow "Beat Diabetes" educational outreach initiative, the Chandler Year-Round Education Pilot Project, and the Arizona Leadership Academy for administrator preparation regarding legal issues in school governance. She holds the Certified Online Instructor (COI) certification offered by the Learning Resources Network (LERN), where she also chairs the Faculty Club, an international consortium of higher education online teachers and administrators.
DONOVAN, JOHN MICHAEL Ph.D. Ph.D., Weatherhead School of Management, Case Western Reserve University M.A. St. Mary's University B.A. Rutgers University Post Doctoral Education – Certification training in Lean Manufacturing and Six Sigma
Dr. Donovan served his country as a Captain in the United States Air Force and has worked in the private sector for notable companies such as Proctor and Gamble, Robert H. Schaffer and Associates, Honeywell Aerospace Division, PDS, Inc. and TeamPath, Inc. He has taught at the University of South Florida, Stautzenberger College (online) and Schiller International University in Largo, FL. Dr. Donovan teaches Management and Psychology at UOTP.
EBANKS, ANDRE A. MBA MBA Manchester Business School, University of Manchester, UK B.S. Mathematics and Computer Science, University of the West Indies
In his corporate career, Professor Ebanks worked for Pricewaterhousecoopers in Jamaica as a management consultant in the Management and Financial Services Practice with expertise in conducting due diligence, valuation and performance management engagements across multiple sectors. His teaching experience includes classroom and online courses at Strayer University in addition to Stratford University. Professor Ebanks teaches Finance and Management at UOTP.
EILBACHER, FRANK, M.S. M.S. Adminstration, Central Michigan University B.S. Business Administration and Computer Information Systems, Columbia College Project Management Professional (PMP) Certification, Project Management Institute (PMI)
Professor Eilbacher is a Program/Project Manager with Computer Sciences Corporation (CSC) where he manages multimillion dollar information technology (IT) projects. He has experience as Business Manager, Capture Manager, and Technical Lead. His IT experience also includes specialization in Communication-Computer Operations and Networking during his service in the United States Air Force. Professor Eilbacher teaches Information Systems, Business, and Management courses at University of the Potomac.
EISENMAN, Z. STUART, M.Ed. M.Ed in Technology Education, UMUC B.S in Accounting, University of Maryland B.S in Info systems, University of Maryland
Professor has taught business courses for twenty four years including Marketing and Management as well as Computer Science applications. He previously owned and operated an accounting, tax service and a hospital supply firm.
FARABEE, CAROL S., MBA MBA, Management, Western International University MS, Systems Engineering, Western International University, BA, Sociology, University of North Florida
Professor Farabee has 30 years' experience in business as an analyst, project manager, process and documentation manager and 25 years in Information Technology as a quality engineer, technical writer and production artist. She started teaching at the University level in 2001. She has taught Business and IT courses for Western International University, Anthem College and now at UOTP. Professor Farabee has experience in on-line as well as on-ground curriculum.   She owns her own online business and is a member of 4 honor societies. She is a member of several educational associations and has served as a member of the board of directors.
FISHER, FREDERICK L, II Ph.D. (2012) Organizational Leadership, Northcentral University M.S. Project Management, George Washington University M.S. Information Systems Management, University of the Potomac TESST Electronic School
Prior to joining UOTP, Professor Fisher taught Technology Education (IT) for the Prince Georges County Public Schools. He has earned an ESA Master's Certificate in Project Management from George Washington University, and is currently working on his PMP (Project Manager Professional) certification. Professor Fisher teaches Government Contract Management and Information Systems at UOTP.
FRANKLIN, MARKELL, SHRM Master of Human Resource Management, Keller School of Management, DeVry University MBA, Keller School of Management, DeVry University B.S. Business Administration, DeVry University
Professor Franklin has a vast amount of private sector experience including working for companies such as NovaLink Solutions and Capitol One Corporation. More recently he worked for the U.S. Department of the Treasury in Human Resources-Student Program where he maintained the Employee and Labor Relations automated case tracking system. Additionally, he maintained the case file system for conduct, performance and Office of Inspector General actions. Professor Franklin teaches Management at UOTP.
GARETINO, RENE F., MBA MBA, The American Intercontinental University B.S., Business Administration, Nicholls State University
Professor Garetino has over 20 years of experience in college and high school campus administration, including residence hall director, retail store manager, dean of students, and college presidency. She develops curriculum for traditional, blended, hybrid, and online institutions and volunteers within the educational community throughout the United States, which includes serving as a team lead throughout campus accreditation visits. She teaches classes within management, business, leadership, general studies, public speaking, business writing, and critical thinking.
GINDABA, FEKEDE B MBA Government Auditing, Graduate School, USDA MBA, Accounting, Maharishi University of Management ACCA, UK B.S. Accounting, Addis Ababa University
Professor Gindaba has been an auditor for the District of Columbia Office of the Inspector General where he reported to the Director of Procurement. He was a Senior Accountant for Findling, Inc., in Baltimore, MD and was Finance Officer for the London Borough of Lambeth Council in the UK. Professor Gindaba teaches Accounting at UOTP.
HADJI JORDANOV, VASIL A. MBA, Information Technology, Schiller International University MBA, International Business, Schiller International University B.A. International Relations and Diplomacy, Schiller International University
Professor Hadji Jordanov was Director of Global IT Planning and Operations for Schiller International University. He managed corporate IT strategy and solutions including desktop and server support. He was IT Administrator for the Ministry of Defense in Skopie, Macedonia and Host Coordinator and Interpreter for the Macedonian Basketball Association.  Professor Hadji Jordanov teaches Information Systems and Network Management at UOTP.
HANCOCK, MICHAEL K.
M.S., Business Management, Stratford University
B.S., Business Administration, University of the Potomac
Professor Hancock is employed with SODEXHO in Gaithersburg, MD, an international, multi-billion dollar food and facilities management services company specializing in operating on-side restaurants for health care facilities, college campuses, corporations and military sites. He also was Director of the Food Service Programs for Metropolitan Health Associates, Inc., in Washington, DC. Professor Hancock teaches Management at UOTP.
HERMANN, DENNIS, PMP MBA, University of Phoenix M.S. Computer Information Systems, University of Phoenix B.A., Salisbury University Project Leadership Certificate, Cornell University
Professor Hermann has enjoyed a long career with Computer Sciences Corporation where he has served as Program/Project Manager, Service Delivery Manager, Service Delivery Leader, Solutions Architect, Senior Supervisor and Web Infrastructure Analyst. He was also an IT Laboratory Manager for St. Joseph University. Professor Hermann teaches Information Systems and Network Management for UOTP.
HILL, NOVELLA, Ph.D. Ph.D. Organizational Leadership in Information Systems Technology, University of Phoenix MBA, Information Systems Management, Southeastern University B.S., Information Systems, The University of the Potomac
Dr. Hill has worked in the Federal Government in the Washington, D.C. area for many years in a variety of management, information systems, and strategic planning positions.  Some of the positions and roles of responsibility include Privacy Program Officer, Publications Program Policy Manager, Information Systems Principal, Writer-Editor, Management Analyst, and Program Manager.  Dr. Hill teaches Business and Management at the UOTP.
HOOD, YVONNE M.
M.S. Postsecondary and Adult Education, Capella University
M.Ed. Education (Technology, Strayer University)
B.S. Information Systems Management, University of the Potomac
Certificate – Information Systems Specialist, George Washington
Professor Hood is currently the Dean of Student and Retention Services and teaches General Education and Information Technology at UOTP. Formerly, she served as Academic Dean/Director of Academic Support, Assistant Dean/Director of Distance Education and Director of Academic Affairs (Herndon, VA Campus) at UOTP. Professor Hood worked as the Assistant Director of Summer and Special Programs and Director of Pre-College Programs at The George Washington University. She has also held the position of Executive Associate in the Department of Computer Science and Executive Assistant in the Department of Electrical Engineering and Computer Science in the School of Engineering and Applied Sciences at The George Washington University.
KIMBLE, DAVID ALLEN, Ph.D., PMP - California Intercontinental University, Administration and Global Leadership Ph.D., Central Michigan University, Administration and Information Technology M.S, University of The Potomac, Information Technology BS, Northern VA Community College, Computer Science AA
Dr. Kimble is a Project Management Professional (PMP) with over 30 years of Federal Government experience.  Dr. Kimble worked in several capacities with the US Small Business Administration.  As a Program Management Analyst, he had full responsibility for bottom-line factors including Presidential Initiatives, Performance Management, Technical Supervision and Regional Advocate.  As a Supervisory Information Technology Project Manager, he was responsible for strategic planning, new technology development, enterprise architecture, systems development methodologies and configuration management.  Dr. Kimble teaches Information Technology and Business courses at UOTP.
LENNON, COLIN M, MBA MBA University of Phoenix B.S. Business Information Systems, University of Phoenix
Professor Lennon has a vast amount of experience serving in the United States Air Force.  His main focus was IT Project Management, and the management of operations and maintenance on information networks. More recently, Professor Lennon has helped in the development of cyber policy and the organization of the cyber workforces within Department of Defense.  He has been teaching at the UOTP in the classroom and online for almost 2 years.
LEVIN, DAVID P. MBA MBA, Rensselaer Polytechnic Institute B.S. Management Science, Rensselaer Polytechnic Institute
Professor Levin worked as Managing Director for Netcomm, Inc., a boutique technology consulting company that guides leading companies in building and upgrading their global IT and network infrastructures. He was also Director of Voice/Data Communications for Donovan Data Systems, Senior Industrial Engineer for Bankers Trust Company in New York and an Industrial Engineer for Chase Manhattan Bank in New York. Professor Levin teaches Network Management at UOTP.
LEVIN, JUDITY, M.S. M.S. Special Education – Central Connecticut State University B.S. Social Sciences – Russell Sage College
Professor Levin has dedicated her career and professional life to teaching early term students.  In previous professional educational experiences she has created college writing centers, as well as designed and implemented curriculum for university developmental studies courses.  She has taught undergraduate online courses in Developmental English, English Composition, English Literature, Critical Thinking, and Academic Strategies. Professor Levin teaches English and Student Success Strategies at UOTP.
LUCIER, DOROTHEA MBA MBA, Averett University B.S., Commerce, Montana State University
Professor Lucier has served as an intelligence operations analyst in the federal government, as an office administrator in private enterprise, and as a business programs manager and supervisor in a large public school system.  Professor Lucier has previously taught at Virginia International University, and she now teaches business courses at the University of the Potomac and Northern Virginia Community College.
MCKELVEY, HENRY, MIS, CET, CBT, CWNA, MCTS MIS, Information Systems Management, University of Phoenix B. S., Information Technology, University of Phoenix B. S., Electronics Engineering Technology, World College A. A. S., Electronics Engineering Technology, Cleveland Institute of Electronics
Professor McKelvey is a FCC Certified Telecommunications Professional who has worked in several capacities with Wireless Network (WiFi and WiMax) and Radio Systems Technology. As a Distinguished Member of Technical Staff at Verizon Laboratories, he lead a team  in the design and implementation of advanced technologies which lead to the filing of 16 US Patent Applications, 12 of which have been granted US Patents. As a Communications Engineer he is responsible for new technology development, enterprise architecture design and implementation, systems development methodologies and configuration management. Professor McKelvey teaches Network \ Computer Forensics, Network Security and Design, and other Information Systems and Technology courses at UOTP
MCKINNEY, AIMEE P., MBA MBA, St. Joseph's University B.S. Science and Engineering, Pennsylvania State University
Professor McKinney worked in corporate America for over 13 years in a variety of positions including engineering, training, project management and marketing. She has taught for over seven years as an adjunct professor for St. Joseph's University, Penn State University (Abington Campus), Gwynedd Mercy College and UOTP. This includes both on-ground and on-line courses. Professor McKinney teaches Management and Marketing at UOTP.
MELLOTT, LAURA D. M.Ed. Master's in Education, University of Pittsburgh B.S. Human Development and Family Studies, Penn State
Professor Mellott has worked as Guidance Counselor for Agora Cyber Charter School where she provides academic guidance to students in grade 9 in a cyber-education environment. She has also been a Course Developer/Online Instructor for Mountain State University where she developed courses in Abnormal Psychology, Learning Theories, Cognitive Psychology and Lifespan Development.  Professor Mellott teaches Psychology at UOTP.
MITEREVA, SVETLANA Ph.D. Ph.D. in Economics (Management of knowledge-based product lifecycles), Moscow State University of Economics, Statistics and Information M.S. Management, Moscow State University of Economics, Statistics and Information B.S. Management, Moscow State University of Economics, Statistics and Information
Professor Mitereva has performed economical, statistical and financial analysis and reporting in stock exchange activity for the Moscow Government Investment Department. She was also an Economist for the Russian Aircraft Corporation and an Adjunct Professor for the Moscow Banking and Financial College. As Special Economics Advisor to the CEO of ESCO, she developed and implemented energy saving and energy service strategies as a part of a regional program of energy services reform in Krasnodar and Ryazan. Professor Mitereva teaches Finance and Economics at UOTP.
MUEKALIA, ANABELA, MBA MBA, Strayer University B.S., Management, University of the Potomac Computerized Business Systems (Diploma), Computer Learning Center
Professor Muekalia has six years of teaching experience at the higher education level and cumulative experience of leadership, public speaking, diversity management and office administration. For brief period she served as  Interim Chair of the General Education Department. In position of adjunct professor, She teaches Business, Management and Introduction to Student Success Strategies courses while conveying important concepts through lectures supplementing them with current information related to socio-political and economic issues. She has worked as a Program Director with Doctors Without Borders Angola/Africa,  organized seminars and nursing classes for adult professional students and helped translate the lectures from Portuguese to French and vice-versa.  Professor Muekalia is a Co-founder and Vice-president of MKL International (consulting business) where she reviews and approves client's contracts, process documents, taxes and billing, conduct Internet research, attend seminars and conferences, prepare feasibility studies for clients and market the business.
MUEKALIA, DOMINGOS JARDO M.A. M.A. International Relations, The Institute of World Politics M.S. Community Economic Development, New Hampshire College
Professor Muekalia was Chairman for the Center for Democracy in Angola. He conducted frequent briefings to officials at the Department of State, Department of Defense, the National Security Council and Congress on coordinating policy to promote peace and reconciliation in Angola. He was also President of MKL Associates where he provided analytical information to clients through periodic reports on political, economic and social developments in the southern Africa region, with emphasis on Angola. Professor Muekalia teaches History at UOTP.
NICHOLSON, LORENZO, MBA MBA, Health Services Administration, Strayer University B.A.,Management, Johnson C. Smith University
Professor Nicholson is a16 year veteran of the Banking and Investment industry, with Citi, Smith Barney and Morgan Stanley as a Senior Client Service Associate, Operations Manager. and Marketing Specialist. Being employed with these global banks afforded him the opportunity to work across international markets and ventures as a global investor and explore, economics, marketing and management of varies departments.  In 2010 he transcend his financial experience to the health care industry and move rapidly towards an MBA in this area.  After completing the MBA, he accepted an offer with Children's National Medical Center, the only Pediatric hospital in our Nation's Capital as a Program/Business Manager in the area of Health care informatics. This opportunity has proven to be awarding and gratifying as he is among pioneers of the new health care reform act and the new Affordable Care Act.
OGLESBY, CYNTHIA, MBA MS, Management, HRM track, University of Maryland University College MBA, University of Maryland University College BA, Communications, Journalism track, University of Maryland University College
Professor Oglesby began her corporate career as a grants writer for the Boys & Girls Clubs of Greater Washington. Afterwards, she worked in higher education at UMUC as a testing center director. Later Ms. Oglesby worked at the University of Phoenix as an academic counselor. She teaches business courses, English, public speaking, and the digital world at UOTP.
PERSON, WALTER HOWARD, Jr. Ed.S. AGS Higher Education, University of Maryland at College Park M.A. Telecommunications Policy, George Washington University B.G.S. Business Management/Computer Science, American University A.A. General Education, American University
In the private sector, Professor Person served as Manager of Bell Atlantic Research Center in Charleston, WV. In total, he spent 29 years with the Bell Atlantic Corporation. Turning his education and experience into the academic arena, he has served as Assistant Professor/Faculty Advisor, Academic Dean and Director of Assessment and Institutional Effectiveness at UOTP. He has also taught at Central Carolina Community College and the University of Phoenix. He currently teaches Information Systems at UOTP.
POWELL, KEITH D. M.S. M.S. Public Administration, American University B.S. Political Science, American University
Professor Powell worked for many years for the Department of Employment Services in Washington, DC. He was a Labor Market Information Specialist in the Workforce Development Division, Program Manager in the Occupational Employment Statistics Unit and Supervisory Wage and Salary Specialist in the Prevailing Wage Survey Unit. His has taught at Stockton State College, Sojourner Douglass College, the University of the District of Columbia and Central Michigan University. Professor Powell teaches Management at UOTP.
RIEGER, KEITH, M.A. MA, Marketing, University of Alabama B.B.A., Marketing, University of New Mexico
Professor Keith Rieger has been a business professor since 2008. In addition to UOPT, he is also an adjunct professor at Arizona State University and Western International University. He has facilitated both undergraduate and graduate level courses in marketing, management, communications, leadership, international business, and operations management, and human resource management. In addition, he has 15+ years experience as an executive and consultant for numerous companies and organizations around the world.
ROBINSON, EBENEZER, Ph.D. Ph.D. Business Administration, Northcentral University MBA Business and Management, American-Intercontinental University BSC Accounting, California State University
Prior to joining UOPT, Dr. Robinson served as a Director of management in corporate America and International organizations for more than thirty years. He has taught undergraduate and graduate level courses in management, business, and marketing. Dr. Robinson teaches business and management at UOTP.
SHAH, ROB, MBA MBA, Keller Graduate School of Management, DeVry University B.S. Accountancy, Arizona State University
Professor Shah has 17+ years of leadership experience at various Fortune 500 companies in the areas of strategic planning, finance, accounting, marketing, and general management.  Earlier in his career, he was a co-founder of two start-up companies.  He is a licensed CPA and holds a CMA certificate as well.  He teaches Business and Management courses at UOTP.
STEWART, DONICE Ed.D. Ed.D. Organizational Leadership (2012), Argosy University MPA Government Management, Southeastern University MPA Healthcare Administration, Southeastern University
Professor Stewart has over 13 years of experience in service to the U.S. Government in several areas. She worked for Labyrinth Associates, LLC, who are Federal, State and Local Government consultants in Education and Healthcare. For the USDA, National Program Staff in Beltsville, MD, Professor Stewart was a Supervisory Program Analyst. She reviewed and proofread Congressional hearing transcripts to conform to Federal (Congressional and USDA) guidelines. She has also worked for the U.S. Department of Justice and the Federal Energy Regulatory Commission. Professor Stewart teaches Management at UOTP.
SUMARE, MAMASA M.S. M.S. Engineering, Arizona State University B.S. Engineering, Arizona State University
Professor Sumare began her academic career as a Biotechnology Instructor at the East Valley Institute of Technology in Mesa, Arizona. She then became an adjunct Instructor in College Algebra and Human Biology for Brookline College Online. Professor Sumare teaches Mathematics and Environmental Science at UOTP.
TOUHEY, DEBRA M.S. M.S. Accounting, University of Phoenix BBA Finance, Florida International University
Professor Touhey began her private sector/government career as a Tax Examiner for the Internal Revenue Service in Holtsville, NY. She was also Accounting Officer/CFO for Transflorida Bank President/CEO for Knight Ridder Credit Union in Miami, FL and Vice President/Comptroller for SF Financial in Ft. Lauderdale, FL.  Professor Touhey has taught for Broward College and Hollywood Academy of Arts and Sciences. She teaches Accounting at UOTP.
TROWER, CONSTANCE, MA M.A. International Relations, Webster University B.S. Biology, Howard University
Professor Trower has lived and studied in the United Kingdom while conducting research for her dissertation, "Somalia: Has Its Past Caused Its Present? A Case Study Exploring Whether Colonial Drawing of Political Borders in Africa is Linked to Its Current Disarray."   She has been a Contributor to the political website International Political Forum (IPF).   Her areas of specialization include foreign affairs, international economics and global cooperation.  Professor Trower teaches several classes, including International Marketing.
WALKER, WILLIAM D. Ph.D Ph.D. Organization and Management, Capella University M.Ed. Sport Management, Temple University B.A. Biological Sciences, Southeastern Louisiana University
Dr. Walker joined UOTP after having taught at Temple University, Towson State University, Howard Community College, University of Phoenix, and Strayer University. His teaching experience includes both undergraduate and graduate level courses in management, leadership, strategic ,management, entrepreneurship, e- business, and consulting management. Dr. Walker has also taught high school math, sailing, CPR, advanced first aid, and recreation and sport facility courses. He was the Director of Operations for all sports facilities at Temple University and has been a small business owner for over 20 years with franchises as well as individual start-ups. He owned a marina and boat supply store before becoming a franchise consultant and adjunct faculty.
WARRICK, JARRED M.Ed. M.Ed. Regent University, Virginia Beach, VA B.A., Morehouse College, Atlanta, GA
Jarred C. Warrick is native of Washington, D.C. He was educated in the Public School System of the District of Columbia, and graduated from Howard D. Woodson Senior High School, with Honors.  During his 4 years at Woodson, Warrick played Varsity Football and Basketball, was the Editor of the School Newspaper, and was a member of the National Honor Society. Professor Warrick continued his education in Atlanta, Georgia where he enrolled at Morehouse College and earned a B.A. in English. He also completed his Master of Arts in Teaching at Regent University. Professor Warrick has been employed by the DC Public School System as an English instructor for over ten years. He and his wife Julia reside in Suburban Maryland with their two children.
WHITE, SHANICE M. M.S. M.S. Information Assurance, Capitol College
Professor White is a multi-certified expert in Enterprise Security Strategies. She has been a Senior Network Engineer for several Maryland and Virginia companies where she was third-tier support for local and wide area networks including problems with data communications, fault isolation, equipment fault detection and circuit outages. She was responsible for development and execution of test plans, procedures and configurations for networking equipment and applications. Professor White teaches Information Systems and Digital Forensics at UOTP.
WHYTE-MORAZAN, LISSA MBA, University of Phoenix Bachelors of Humanities in English, Laurentian University, Sudbury, Ontario Canada
Professor Whyte-Morazan was Training and Exercise Supervisor for Maricopa County Public Health Emergency Management where she developed and trained volunteers and other county employees to participate in dispensing sites in case of a bioterrorism attack. She was also Training Development Manager for the University of Phoenix in Phoenix, AZ, where she developed standard operating procedures for every position within the department. Professor Whyte-Morazan teaches Business and Management at UOTP.
WOOD, JEANETTE DEANE M.S. Marketing, John Hopkins University B.S. Business Management, University of Phoenix
Professor Wood worked for the Howard County Government in Ellicott City, MD as an Administrative Support Tech III in the Auditor's Office and Finance Department. She used her face-to-face marketing acumen for Connections Academy, eInstructions, Inc., Schoolwires, Inc. and DSR Computer Technology. Professor Wood teaches Marketing and Management at University of the Potomac.
ZEEMAN, NICOLE M.S. M.S. Teaching English as a Second Language, University of Southern California B.A. English, University of Tampa
Dr.  Zeeman was Director English Language Program/Associate Professor/Chair of Language Department/Designated School Official at Schiller International University in Largo, FL. In addition, she was Adjunct Professor in American Higher Education Development at Madison Media Institute. She began her academic career as a middle school teacher in Tampa, FL. Dr.  Zeeman teaches English at UOTP.