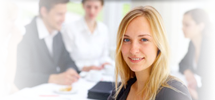 Financial Aid for Our Students
At University of the Potomac, it is one of our primary missions to make a post-secondary degree accessible to everyone. With that in mind, we offer numerous options for financing your education.  The best way to find out what is right for you is to contact one of our Financial Aid advisors. They will give you personal help in matching you with your best options.
Our financial aid staff can be reached by calling 888-635-1121 or by emailing us at financialaid@potomac.edu.
Fill out the FAFSA
The Free Application for Federal Student Aid (FAFSA) is used by the College's Financial Aid Office to determine eligibility for aid and to assist you in deciding what resources are best suited to your circumstances. Go to www.fafsa.ed.gov  to complete the FAFSA online. You are not required to have an FSA ID to complete and submit a FAFSA on the Web application. However, it is the fastest way to sign your application and have it processed. It is also the ONLY WAY to access your data online. If you do not already have an FSA ID, you can create an FSA ID.  If you have a previously assigned PIN #and need to retrieve a duplicate copy or activate your PIN #, you can do so at www.pin.ed.gov.
University of the Potomac School Code: 032183
You will need your 2014 income information (i.e. taxes) to complete the 2015/2016 FAFSA and your 2015 income information to complete the 2016/2017 FAFSA.  This process can be completed using the IRS Data Retrieval Tool (IRS DRT) which helps tax filers estimate when they will be able to retrieve their IRS tax return information. Specific questions related to the obtaining your IRS tax return should be directed to the IRS at 1-800-829-1040

 1-800-829-1040 FREE.
If you have a previously assigned PIN #and need to retrieve a duplicate copy or activate your PIN #,  you can do so at www.pin.ed.gov.
Complete Required Forms
Complete the required Financial Aid file forms
These forms should  be printed, scanned and emailed or faxed to (866) 954-8523
Once these steps are complete, the Financial Aid Office will let you know what your estimated awards are!
However, there are more steps for you to take and until those are completed, you are not ready to register for your courses.
Complete Entrance Counseling
Federal Student Loans are an important part of financing educational expenses. University of the Potomac provides students with information and counseling to assist them in managing their loans efficiently.
Loan counseling is completed online at:
https://studentloans.gov/myDirectLoan/index.action#
Federal Loan Application
University of the Potomac participates in the Federal Direct Student Loan program. Federal student loans, unlike grants, are borrowed money that must be repaid. However student loans are not credit based loans and offer another option to eligible recipients to assist in paying for their education.
For dependent students whose award package may include a Parent Loan for Undergraduate Students (PLUS) loan, the parent will need to apply for the PLUS by logging into www.studentloans.gov and clicking "Parent Borrower" and Apply For A PLUS Loan.
The Master Promissory Note (MPN) for the loans should be completed and electronically signed online at: www.studentloans.gov
Financial Aid Next Steps
The Financial Aid Office will review your file.
Verification
In the event that your 2015/2016 FAFSA application is selected for review in a process called "Verification", the Financial Aid Office as well as Federal Student Aid will contact you. In this process, University of the Potomac will be comparing information from your application with income information provided and the 2015/2016 verification forms.  Federal regulations state that we have the right to ask you for this information before awarding Federal aid. If there are conflicts between your application information and your financial documents, you or your school may need to make corrections electronically or by using your Student Aid Report (SAR).
Additional Documents
The U.S. Department of Education performs comparisons on every financial aid application with several federal databases including the Social Security Administration, the Department of Homeland Security, and Selective Service. Other checks and balances are performed by the Department of Education which may result in additional documents being required to process your Financial Aid.
Please respond immediately to any request so the processing of your financial aid application is not delayed.
Types of Aid
Federal Pell Grant Program (Pell)
Federal Supplemental Educational Opportunity Grants (SEOG)
Federal Direct Loan Program
Other Funding Sources

Employer Based Tuition Assistance programs
Financial Aid Exit Interview
The staff of the Financial Aid Office would like to offer our most sincere congratulations on your impending graduation!! Did you receive a Federal Stafford Loans? If so, you are required to participate in an exit interview for each loan type prior to graduation.
Federal Direct (Stafford) Subsidized & Unsubsidized Loans
It is a federal requirement that students go through Exit Loan Counseling at such time as they are ready to graduate, withdraw, or drop below half-time enrollment. This requirement can be fulfilled by going to https://studentloans.gov, and completing the Exit Counseling process through the National Student Loan Data System (NSLDS) Student Access link. You will be provided with valuable information about loan repayment as well as your rights and responsibilities as a borrower in the Federal Direct Loan program. If you are unable to complete the counseling online, please contact the Financial Aid Office to inquire about upcoming Exit Loan Counseling sessions. Questions? Contact the Financial Aid Office at (202) 274-2300.
To retrieve your Loan Information please review the information above, then click on the link below: