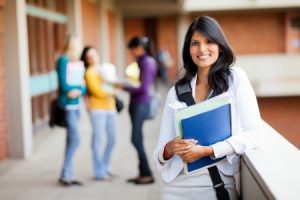 The United States Department of Education is ready to help with information on financing education after high school graduation. The government provides information on federal grants, loans and basic how-to's for figuring out the exact amount of money necessary to fund a full college education.
The Basics
Many families need to begin with the basics to financing an education, which often means starting a savings account for a child at a young age. At the state level, there are as many as 529 plans to help families save for a higher education. The plans are either sponsored by the state itself or by institutions of higher learning. However, there are some families who cannot afford to save for a child over a lifetime. If this is the case, there are still ways for a high school graduate to pay for college.
Financial Aid*
Sources for financial aid include the federal government, states, colleges, and public or private organizations. Every type of financial aid can be categorized in one of four ways:
– Grants: This money does not need to be repaid. It is awarded based on financial need. The Federal Government offers a Pell Grant to some low-income students.
– Work Study:Students may earn money if the work while they attend school. This money does not need to be paid back.
– Loans: These are borrowed funds which must be paid back to the loaner. They accumulate interest. Generally, education loans carry better terms than consumer loans.
– Scholarships: These are offered by community organizations, schools or private institutions. They do not need to be paid back and have very specific criteria for distribution.
Repaying the Loans
Most loans will wait until the student is out of school before they ask to be repaid, but knowing about the repayment process will help new students decide how they will borrow. The Public Service Loan Forgiveness Program forgives outstanding loans for students who accept full time jobs in public service. Otherwise, many loans will adjust to an income-based repayment plan to ease the repayment period for low-income borrowers.
Putting Student Loans Against One Another
Be sure to compare loans to each other and read the fine print for each loan before agreeing to anything. Colleges and universities will also assist with financial aid options and will help students choose the best loan to finance school. Financing higher education should not be rushed, rather, it should be a process where all options are considered fully.
Interested in pursuing a degree?
Fill out the form and get all admission information you need regarding your chosen program.
This will only take a moment.
*Financial aid available to those who qualify.