Online programs aren't for everyone, but neither are campus ones. University of the Potomac's once-a-week hybrid learning option is a compromise between the two and offers an ideal solution for many students. Here are the kinds of students who are better off with a hybrid learning option:
The working student
You've got a job that you don't want to give up while you study. Maybe you need it for rent, food, and transportation. Maybe it's a great internship that will likely lead to a career at your dream company. Maybe it's your own business and you're just studying to improve its prospects. Either way, it'll be easier to attend class when it's held once-a-week in the evenings or on Saturday. You also won't miss out on the personal aspect since there will be plenty of time spent with professors and other students online and in the classroom.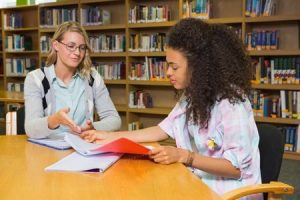 The thoughtful student
In a traditional classroom setting, there's only so much time in a period. The professor is going to take most of it, and that leaves students just a fraction of the hour to get their word in. UOTP's online discussion forums provide a solution to this problem. If there isn't enough time to ask a question in class, you can post it in a new thread. This is also helpful if you remember something later that you forgot to mention in class.
The bookworm student
In a hybrid learning environment, students have access to online research databases and the university's online library. Together, they provide enough sources to keep the most ambitious student stocked with fresh reading material. In addition, if you prefer to search for publications in person, then you can also go to the physical library.
The saving student
Tuition is expensive enough, and students certainly don't have to look for more ways to spend money. If you're on a tight budget, then you might benefit from a hybrid learning option. Going to class online means not having to fill up your gas tank as much, not having to buy another ticket for the metro, and not having to find a babysitter for your kids. In addition, you'll have more time to go shopping and cook your own food instead of eating out in restaurants.
The "family first" student
The family is one of the few things that takes precedence over school. The only thing is that everyone has different commitments based on their own situation. If you're an only child and your parents live in town, then it won't be difficult to stay in touch with your family. But if you have kids and your partner lives in a different city, it gets challenging.
Hybrid learning options provide flexible schedules for students. A family emergency won't set you too far back and you'll be able to recover in no time. In terms of your everyday schedule, you'll have enough time and flexibility to drive your kids around, Skype with family members, and save time for dates.
University of the Potomac's hybrid learning environment take the best aspects of online and campus and creates a more optimal solution. To talk more about hybrid learning environments, or anything else, contact us today.
Interested in pursuing a degree?
Fill out the form and get all admission information you need regarding your chosen program.
This will only take a moment.