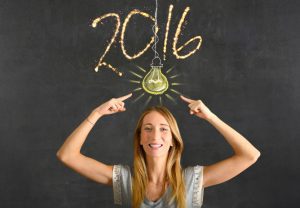 Although the New Year's celebrations are in the rear view mirror, the New Year's resolutions do not have to be. The experts at the Statistic Brain Research Institute note that 47 percent of Americans make "self improvement or education related resolutions." That said, only about 39 percent of polled individuals succeed at reaching their goals. In the over-fifty age group, the number drops to 14 percent. If a higher education or a degree has been your New Year's resolution, you can still achieve it with online studies.
Common Reasons for Putting Education on the Back Burner
Even though you were certain that this would be the year to work toward a degree or learn new skills for a career change, it is easy to put this resolution on the back burner. Common reasons are the busyness associated with having a family or being employed, the length of time it takes to earn a degree and the volume of paperwork that admissions representatives ask you to fill out before you even set foot inside a classroom. This brings us to the next reason for not following through with your goal of a higher education: restrictive class schedules.
Online Studies Put You in the Driver's Seat of Your Education
Do not allow the teen-centric design of a college's class schedule to keep you from the education you deserve. At the University of the Potomac, you find that there is a school that makes education user-friendly.
Get credit for prior learning. If you have had some college experience in the past, have held jobs or may have been working in a career position for a while, you have the kind of life experience that easily translates into college credit. Depending on the skills that you bring to the table, you have the potential of saving time and tuition costs by applying these skills to your degree.
No GMAT requirement. If the hassle and expense of the Graduate Management Admissions Test (GMAT) has kept you from pursuing a Masters in Business Administration degree, this school agrees that it is unnecessary to jump through these hoops.
Savings opportunities. If you or a qualifying family member has served in the armed forces, you may qualify for discounted tuition. Other savings options include possible scholarships through the school (and other organizations) as well as money saved through credit for prior learning. Of course, learning online as opposed to attending a traditional classroom also offers plenty of savings.
Online Degree Programs Prepare You for a New Career
When you choose to forgo the inconvenient schedule of your local college or university in favor of one of the University of Potomac's online bachelor, MBA or associate's degree programs, you have the opportunity to take advantage of learning at your pace. In addition, you may choose to set up your learning space in your home, office or anywhere else that is convenient for you.
When you advance your education to a bachelor's degree, you may choose from a broad range of fields that include business, information technology and cyber security. Students desiring to earn an associate's degree appreciate the availability of programs that include international business and network security management. Classes are taught by industry professionals who bring their expertise and real-life understanding of the subject matter to the virtual classroom. The training you receive in this manner is relevant to today's business climate and geared toward your success in the chosen field.
Interested in pursuing a degree?
Fill out the form and get all admission information you need regarding your chosen program.
This will only take a moment.
When you are not ready to shelf your goal of a higher education for yet another year, online studies can help you succeed. The application process is quick and easy. Talk to live representatives on the phone and fill out documents online at your convenience. With such an easy setup, you can look back on this year as one of the successful 39 percent (or 14 percent) who achieves her or his resolutions. Contact us today to learn more and to get started.