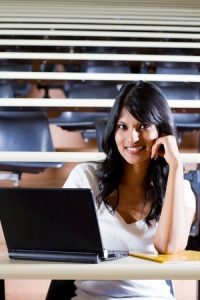 Attending college for the first time can be quite intimidating- especially if you are doing it in another country. Not only do you have to deal with challenging academics, you also have to learn the cultural nuances of the country you are studying in.
The University of the Potomac realizes that this can be a difficult transition for international students, and offers many student services to make the process easier. We do this because it is in our interest for all of our students to succeed. Here is a brief overview of how some of our programs will help take the 'culture shock' out of being an international student.
International Student Advisors
In college, your advisor is the go-to source for any type of assistance you may need. Whether you are having trouble registering for a class, or simply want to know a local place to eat, they are there to help. International student advisors are additionally trained in the challenges that visiting students may face. So don't be afraid to reach out to them.
Besides being a trusted source of help, these specialized advisors are able to assist with work authorization questions, and degree changes. They are even able to help should you need to return to your home country for a while.
New Student Orientation
You aren't expected to simply show up and figure it out. All students are required to go to a new student orientation that helps introduce the culture, requirements and benefits of being a University of the Potomac student. At orientation, you will get your first chance to experience the diversity of the school and its surrounding community. You'll be given the tools to succeed, and the confidence to do your best. It's the first real step to getting everything you can out of your experience.
Going to school in another country is a challenging task, but we are prepared to support you the entire way. When you are ready to learn more about our services for international students, contact us and we'll get you started.
https://potomac.edu/wp-content/uploads/2014/10/feel-more-at-home.jpg
450
300
DL
https://potomac.edu/wp-content/uploads/2016/01/potomac-online-university.png
DL
2014-10-17 12:16:26
2014-10-17 12:21:22
How Student Services Can Help You Feel More at Home