Are you passionate about using your technical skills to help improve the quality of life? Does the natural world and what occurs in it intrigue you? If your answer is yes, we have the perfect field of study for you.
Geospatial intelligence is relatively a new term, but this field of study has helped people predict, prevent, and manage natural and man-made disasters for a very long time.
Stay tuned if you're interested to learn more!
What Is Geospatial Intelligence?
At this point, you're probably wondering, "what is geospatial intelligence"? Geospatial Intelligence (GEOINT) is a field of study that uses imagery and geospatial data to define, assess, and visually display physical characteristics and geographically referenced actions on Earth.
GEOINT's primary premise is to collect and combine all accessible data surrounding a geographic area on Earth and then exploit it to create products that planners, emergency responders, and decision-makers can utilize efficiently.
GEOINT is a term that encompasses a variety of disciplines, including mapping, charting, imaging analysis, and imagery intelligence. Despite its association with the military, geospatial intelligence is increasingly being used by civilian and private sector entities in telecommunications, transportation, public health and safety, and real estate to improve the quality of life.
A Brief History of Geospatial Intelligence
The term geospatial intelligence is relatively new, but its roots have a long and intriguing history. Geospatial knowledge has grown from its ancient origins to become prevalent in daily life worldwide. The National Geospatial-Intelligence Agency (NGIA), formerly known as the National Imagery and Mapping Agency (NIMA), was established in 1996. The phrase The National Geospatial-Intelligence Agency was coined in 2003 by Director of National Intelligence James R. Clapper, Jr. to represent the agency's purpose better.
Although its current use originated in national security groups, GEOINT has quickly spread to other government agencies, non-governmental organizations (NGOs), and enterprises. GEOINT imagery was traditionally created and used in the military and national defense sectors to supervise adversaries' movements, strengths, and weak points. However, thanks to advancements in computer software technology that allows it to handle big data, such as georeferenced social media and many Earth images, geographic information systems have been accepted by public safety, emergency management, homeland security, and other domestic authorities.
Education
To become successful in the geospatial intelligence field, you must meet specific education requirements. Many people in this field start with obtaining a bachelor's degree to finish with a master's degree in geospatial intelligence.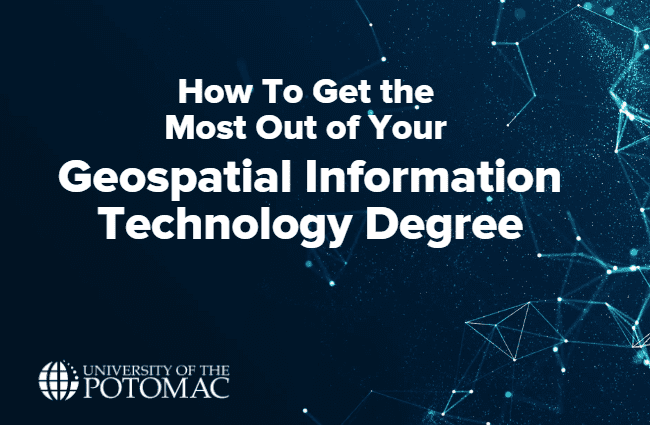 Download Our Free eBook: How To Get the Most Out of Your Geospatial Information Technology Degree
Uncover the insight you need to maximize your career potential.
M.Sc. in geospatial intelligence
Most employers require a bachelor's degree in geography, computer science, environmental science, urban planning, geographic information systems (GIS), or a related field for a career in the geospatial intelligence field. The Bachelor of Geospatial Science prepares you to experiment with cutting-edge technologies in order to harness the world of data and apply intelligence to alter our reality. As a geospatial scientist, you'll research the links between physical locations, people, and earth processes.
The M.Sc GEOINT program offers workforce-focused technical training that equips graduates with the skills and experience to lead new projects in the fast-changing world of GEOINT applications, data collecting systems, analytic methodologies, and mission support. Full-time students can complete the M.Sc GEOINT degree in 15 months. However, most individuals decide to further their academic studies and obtain a master's degree.
When it comes to the geospatial intelligence salary, the average Geospatial Analyst salary is $61,018 per year, or $29.34 per hour, in the US.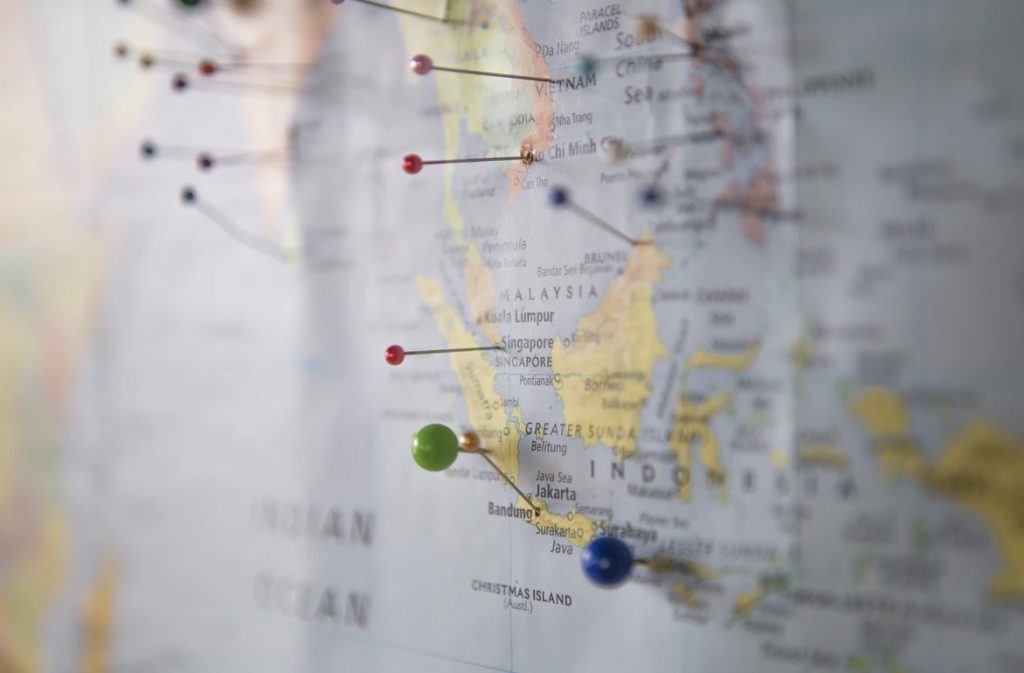 Benefits of Studying Geospatial Intelligence
Throughout the years, GEOINT has helped improve many areas of our lives. If you decide to study GEOINT, you will be able to manage and develop different plans that will help the world in th long run.
Mapping and managing natural disasters
Geospatial intelligence has a long history of use in catastrophe mapping and management. Disaster mapping is the visualization of places that have been subjected to extreme natural or man-made disasters resulting in the loss of life, property, and national infrastructures. Every year, natural disasters such as earthquakes, landslides, floods, fires, tsunamis, volcanic eruptions, and cyclones kill many people and devastate property and infrastructure.
GEOINT can be utilized to analyze the intensity and impact of damage caused by these disasters very efficiently. During the disaster relief phase, it is highly valuable in search and rescue operations in places that have been ravaged and where finding one's bearings is difficult.
Creating geospatial data to fight global hunger
GEOINT is used to collect detailed info on global hunger challenges. The technology is used to assess the number of individuals dying from hunger worldwide daily and the types of food insecurity they face. The data is captured and saved in the system, where it can later be utilized to improve agricultural methods and make food poverty less of a problem for people.
Interested in pursuing a degree?
Fill out the form and get all admission information you need regarding your chosen program.
This will only take a moment.
Joint operations and mapping of crisis
It is a fact that joint forces must be able to respond quickly to threats anywhere around the planet. Geospatial intelligence (GEOINT) helps meet this need by supplying images, imagery intelligence (IMINT), georeferenced data, and products (such as maps, charts, and elevation or vector information) that serve as the basis and shared frame of reference for any joint operation.
Moreover, geospatial intelligence has excellent use in crisis mapping. Crisis mapping (also known as disaster mapping) is the collection, presentation, and analysis of data in real-time during a crisis, generally a natural catastrophe or a social/political conflict (violence, elections, or others).
Typically, crisis mapping initiatives allow many individuals, including the general public and emergency personnel, to submit information remotely or on the spot. Geospatial intelligence is beneficial for crisis mapping since it provides imagery, georeferenced data, maps, charts, etc.
Urban planning & development
One of the reasons GEOINT is significant in urban planning is understanding a city's existing needs better and then developing to meet those needs. Users acquire a comprehensive view of land and infrastructure by analyzing geospatial data via satellite imagery, aerial photography, and remote sensors.
GEOINT technology provides urban planners with more data visibility. They track changes over time, assess the viability of proposed initiatives, and forecast their environmental impact. Geospatial intelligence software can also show all important stakeholders precisely what the changes would look like on the ground, allowing them to make better judgments.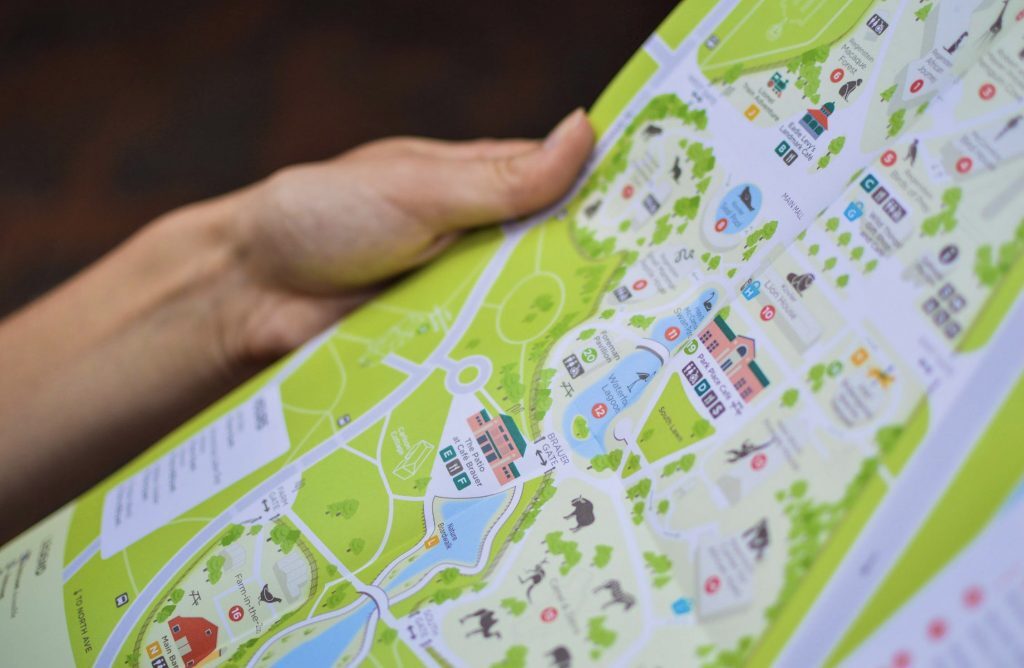 The Future of Geospatial Intelligence
The future of Geospatial Intelligence (GEOINT) looks bright. As more firms understand how much commercial value geospatial data can provide, it's set for even broader scale adoption than we've seen in previous decades. As trends such as data analytics, mobility, augmented reality (AR), and the Internet of Things (IoT) continue to take off throughout the world, we can anticipate geographic information science and technology revolutionizing and changing how enterprises use these technologies.
Final Thoughts
Ultimately, Geospatial Intelligence has helped professionals to improve the quality of the world we live in for a very long time. If you decide to study GEOINT, we assure you that it will guarantee you a secure job position and a competitive salary.