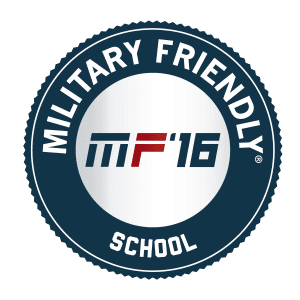 [Washington, D.C., November 6, 2015]— University of the Potomac announced today that it has been designated a 2016 Military Friendly® School by Victory Media, the leader in successfully connecting the military and civilian worlds, and publisher of G.I. Jobs®, STEM Jobs(SM) and Military Spouse. Now in its seventh year, the original, premier Military Friendly® Schools designation provides service members and their families with transparent, data-driven ratings about post-military education and career opportunities.
The Military Friendly® Schools designation is awarded to the top colleges, universities, community colleges and trade schools in the country that are doing the most to embrace military students, and to dedicate resources to ensure their success both in the classroom and after graduation. The methodology used for making the Military Friendly® Schools list has changed the student veteran landscape to one much more transparent, and has played a significant role over the past seven years in capturing and advancing best practices to support military students across the country.
"University of the Potomac is honored to be recognized and named Military Friendly® School," said Dr. Clinton D. Gardner, President and CEO of University of the Potomac. "We at Potomac understand the sacrifices made by men and women in uniform – and their families – so we pride ourselves in serving those who serve us."
"Post-secondary institutions earning the 2016 Military Friendly® School award have exceptionally strong programs for transitioning service members and spouses," said Daniel Nichols, Chief Product Officer of Victory Media and Navy Reserve veteran. "Our Military Friendly® Schools are truly aligning their military programs and services with employers to help students translate military experience, skills and training into successful careers after graduation."
For more information about University of the Potomac's commitment to attracting and supporting military students, visit our website at www.potomac.edu.
University of the Potomac will be showcased along with other 2016 Military Friendly® Schools in the annual Guide to Military Friendly® Schools, special education issues of G.I. Jobs® and Military Spouse Magazine, and on MilitaryFriendly.com.
# # #
About Military Friendly® Schools:
The Military Friendly® Schools designation process includes extensive research and a data-driven survey of thousands of schools nationwide approved for Post-9/11 GI Bill funding. The school survey, methodology, criteria and weightings are developed with the assistance of an independent Advisory Board comprised of educators and HR, diversity and recruitment professionals from schools across the country. The survey is administered for free and open to all post-secondary schools who wish to participate. Criteria for consideration can be found on our website, https://www.militaryfriendly.com.
About University of the Potomac:
Founded in 1991, University of the Potomac has cultivated a reputation of excellence and satisfaction among its graduates for more than 20 years. By providing a wide variety of top-notch, in-demand undergraduate and graduate degree programs, students can take advantage of affordable and accessible education designed with students' specific needs and goals in mind. University of the Potomac has metro accessible campuses in downtown Washington, D.C. and in Northern Virginia (Tysons Corner area). All programs are available online. University of the Potomac is accredited by the Middle States Commission on Higher Education, 3624 Market Street, Philadelphia, PA 19104, (267) 284-5000. For more information about our graduation rates, the median debt of students who completed the program, and other consumer important information, please visit our website at www.potomac.edu
About Victory Media:
Interested in pursuing a degree?
Fill out the form and get all admission information you need regarding your chosen program.
This will only take a moment.
Based in Pittsburgh, Victory Media is a service-disabled, veteran-owned small business that connects classrooms to careers for the nation's next generation of professionals. Our data-driven ratings are published in G.I. Jobs®, Military Spouse, Vetrepreneur® and STEM Jobs(SM) media, and featured in national media including USA Today, Wall Street Journal, FORTUNE, Bloomberg, NBC, ABC, CBS, CNN, CNBC, Fox News and others. Learn more about our Media, Training and Ratings solutions at victorymedia.com, and follow us on LinkedIn, Facebook, Twitter, and YouTube.