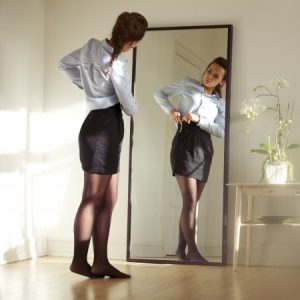 If you've ever looked up how to prepare for a job interview, then you already know that one of the key ways to do so is by looking professional.  The first impression you make on your interviewer is by how you look.  So if you show up looking shabby, unwashed, unshaved or unprofessional in some other way, you've already lost a few points which it will be hard to get back.  Here are a few interview tips to keep in mind with regard to your attire:
It's always safe to wear a suit.  In some occupations, you might be able to get away with showing up business casual at the interview.  However, no one's going to hold it against you if you wear a suit.  Even if you look really uncomfortable because you rarely ever wear suits, the interviewer will notice that you made an effort to be professional because you care about getting the job.  This earns you points.
Neutrals or colors?  Most people will tell you that you should go with a suit in a neutral color like grey, black, navy blue etc.  In general, it's a good idea to look understated on the day of your interview.  At the same time, wearing dull colors is likely to make you blend in completely with the pool of applicants.  You're not going to stand out in any way.  For women, there are many options to stand out.  If you're wearing a grey suit, you can pair it with a pink blouse.  You can also add scarves, brooches and earrings with a bit of color.  For men, adding color can get a bit tricky because interviewers may not care for yellow ties or mauve shirts.  So just try to make sure that the colors of your suit are crisp and eye-catching, even if they're neutral.
Grooming.  In some ways, grooming is even more important than what you wear because the interviewer is going to be focused on your face.  If your hair keeps falling into your eyes or you have a

five o'clock

shadow, these things will distract your interviewer who won't focus on what you're saying.  So you need to make sure your hair is neatly cut and set when you go in for your interview.  For women, it's also important to make sure that your makeup is subtle and understated.  It's fine to want to look attractive but you can save the red lipstick for a different occasion.
Avoid Overly Revealing/Tight Attire.  This rule applies to men as well as women.  Women should avoid extremely plunging necklines and short skirts while men should avoid tight jackets or shirts which show off their muscles to advantage.  We're not saying that you shouldn't be proud of your body.  When you're hanging out with friends or your significant other, feel free to dress exactly as you like.  But when you're going for an interview, you want to impress your interviewer with your brains, not your brawn!
Contact us for more great ways to make sure you're appropriately dressed for your interview.
Interested in pursuing a degree?
Fill out the form and get all admission information you need regarding your chosen program.
This will only take a moment.