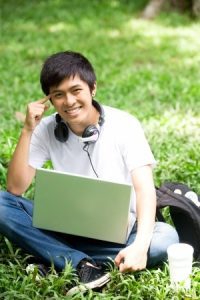 There are two ways to attend college: through a brick-and-mortar campus or online. Knowing the good and bad of each will help you choose where to go to college. Learn more about online learning versus traditional learning, and then decide which one is right for you.
Brick and Mortar (On-Ground)
A brick and mortar college is the traditional way to attend college; students come to campus and attend class in classrooms. Brick and mortar colleges allow students to interact with other students and teachers face-to-face. Students learn how to communicate with others verbally and nonverbally.Asking questions is easy when the professor in front of them is ready to give answers and feedback. Students learn to be more responsible with every exam taken, every deadline that comes their way and regular attendance. This prepares students for the real world.
The downsides of this college lifestyle are attendance, location, lack of flexibility and campus life. Students are expected to be on campus on time, every time. Tardiness and absences can count against you–exactly like the real world. The inflexible schedules make it hard for working students to plan classes around their schedule. The dream college may not be in the same area, so relocation is mandatory. Campus life can be too much fun for some people. They will be more focused on having fun than finishing their degree.
Online
Online campuses use a computer and basic computer knowledge to attend college.  Colleges uses moodle, blackboard or similar software as the backdrop for classes. Assignments are submitted online, discussions are in forum format and emailing professors are effective and prompt. It comes with convenience, greater flexibility and availability. Lessons can be completed around your schedule without leaving home or relocating–rain, snow or shine. Most online programs cost less than brick and mortar because room and board, parking, books and attendance fees aren't necessary.
The downsides of online programs are fewer degrees, self-motivation, social interaction and reputation. Less degree choices are offered online than the traditional way. Online programs require motivation; you must will yourself to complete the work. There is no face-to-face interaction; that can be a good thing or bad thing depending on the person. Online colleges and universities are not respected by some employers.
Contact us for more information about our online and on-ground degree programs.