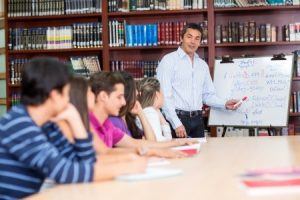 When considering college, prospective students have a lot to choose from. They can enter into a traditional four-year college program, speed up their college careers with a two-year degree or they can choose to take classes online to earn a degree. Online classes can be convenient and sometimes less expensive than other college options, but there are some things that students will miss out on without traditional campus learning.
Contact With Faculty
One of the top reasons that traditional campus life can benefit a student's college life is having contact with the professors and instructors who are teaching them. With online learning, email is the only option. On campus, students can set up face-to-face meetings with their professors to discuss the class, their performance or a project.
Not All Majors Can be Taught Online
If a student is considering a major in nursing, agriculture, biology, music or theater, online classes can only get them so far. While it is easy to take some required classes online in these majors, the classes that include labs, clinical practice or performances cannot be done without a traditional campus class. Having a traditional campus learning environment for these majors will provide access to equipment and materials they would normally not have access to with an online class.
Access to Libraries and Research Materials
The campus library is always a busy place for students to study, collaborate and do research for papers and projects. Without easy access to research materials held by the university and everything that the library has to offer, a student cannot always reach their full potential with in-depth study in a particular field.
If you are interested in learning more about traditional campus life and how it can benefit a student's academic achievement, contact us for more information