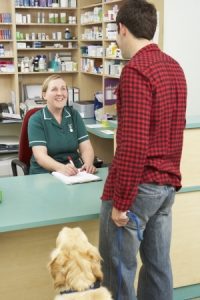 Working at an animal hospital can be a rewarding thing to do; however, not everyone aspires to become a veterinarian. That doesn't mean you can't still work around animals, as there are a number of positions available in a veterinary clinic that are more administrative than medical in nature. Here is a look at some of the possibilities you could be eligible for after earning a business or accounting degree from University of the Potomac.
Receptionist
The receptionist is the first person people see when they walk into a veterinary clinic, and serves as a liaison between pet owners and other staff members. As a receptionist, you would be responsible for setting appointments, pulling medical charts, answering the phone and greeting vendors. This position would be perfect if you have good clerical skills and enjoy working with people as much as you do animals.
Office Manager
An office manager oversees the day-to-day functions of a veterinary clinic, and supervises the workers within it. As such, you could be responsible for making employee schedules, administering benefit plans, interviewing prospects and running reports. To be successful in this position, you should have good organizational skills as well as an excellent working knowledge of how veterinary clinics operate.
Veterinary Office Bookkeeper
As a veterinary office bookkeeper, you would be responsible for managing accounts and overseeing accounts receivable and accounts payable. You would likely be responsible for payroll and the associated taxes as well. Depending on the size of the practice, some of your duties could also include managing inventory and negotiating contracts.
Any of these jobs can be rewarding, since you'll be making a difference in the lives of animals and their owners. The career and job outlook for veterinary clinic workers is high, since people will always have a need to care for their beloved pets. If a veterinary office career sounds enticing to you, take the next step and contact us in order to begin pursuing higher education.
Interested in pursuing a degree?
Fill out the form and get all admission information you need regarding your chosen program.
This will only take a moment.