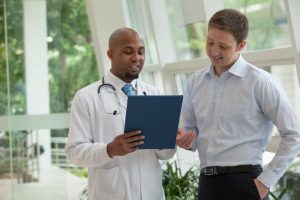 If you are considering advancing your education with a master's degree, why not consider a Master's in Healthcare Administration? Qualifying you for a field that projects to have above-average job growth in the next five years is just one of the many benefits awaiting you and your diploma.
The Potomac MHA degree program was created to help prepare managers for leadership positions, by providing them with the depth of knowledge necessary to address the problems and changes in the healthcare industry. Graduates of this program are well-suited to be leaders in the management of Healthcare systems, Healthcare Policy, Law and Ethics and Global Health Systems.
Interested in pursuing a degree?
Fill out the form and get all admission information you need regarding your chosen program.
This will only take a moment.
Job opportunities aren't just limited to working at big hospitals. You can find employment with group physician practices, clinics, nursing homes and elderly care facilities, home health care organizations, outpatient care centers, mental health organizations, and rehabilitation centers.
This Master's degree is especially perfect for nurses who are looking to get out of the hospital room and help to oversee the actual hospital administration. But in reality, if you are looking for a career change regardless of your current position, this degree will fit your needs as it allows you to undertake more responsibilities and help make big decisions.
Put simply, this degree will be the right choice for you if you enjoy helping others. It allows you to take part in the big decisions that affect all those treated in a particular facility, health insurance, or health organization, giving your voice weight in the everlasting debate of cost vs. patient in health care. You can also work to help streamline practices and policies to make sure that the patient remains at the center of health care.
Health care is often criticized for its lack of ethical or moral standards, but you can help to end that. By obtaining your Master's Degree in Healthcare Administration, you can help make a difference in the lives of all the people who get treated in your particular facility or field. To learn more about how an advanced degree can help you, please contact us.