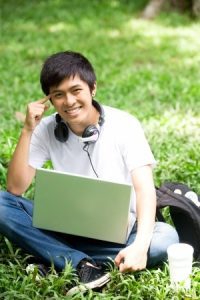 There are two ways to attend college: through a brick-and-mortar campus or online. Knowing the good and bad of each will help you choose where to go to college. Learn more about online learning versus traditional learning, and then decide which one is right for you.
Brick and Mortar (On-Ground)
A brick and mortar college is the traditional way to attend college; students come to campus and attend class in classrooms. Brick and mortar colleges allow students to interact with other students and teachers face-to-face. Students learn how to communicate with others verbally and nonverbally.Asking questions is easy when the professor in front of them is ready to give answers and feedback. Students learn to be more responsible with every exam taken, every deadline that comes their way and regular attendance. This prepares students for the real world.
The downsides of this college lifestyle are attendance, location, lack of flexibility and campus life. Students are expected to be on campus on time, every time. Tardiness and absences can count against you–exactly like the real world. The inflexible schedules make it hard for working students to plan classes around their schedule. The dream college may not be in the same area, so relocation is mandatory. Campus life can be too much fun for some people. They will be more focused on having fun than finishing their degree.
Online
Online campuses use a computer and basic computer knowledge to attend college.  Colleges uses moodle, blackboard or similar software as the backdrop for classes. Assignments are submitted online, discussions are in forum format and emailing professors are effective and prompt. It comes with convenience, greater flexibility and availability. Lessons can be completed around your schedule without leaving home or relocating–rain, snow or shine. Most online programs cost less than brick and mortar because room and board, parking, books and attendance fees aren't necessary.
The downsides of online programs are fewer degrees, self-motivation, social interaction and reputation. Less degree choices are offered online than the traditional way. Online programs require motivation; you must will yourself to complete the work. There is no face-to-face interaction; that can be a good thing or bad thing depending on the person. Online colleges and universities are not respected by some employers.
Contact us for more information about our online and on-ground degree programs.
Interested in pursuing a degree?
Fill out the form and get all admission information you need regarding your chosen program.
This will only take a moment.
2014 Comparison of Online vs. Traditional Learning

Fast Stats
Online and traditional institutions both have their advantages, but one thing is clear: online education is on the rise, and will only continue to grow. These statistics on how online learning stacks up when compared to traditional learning were gathered in early 2014. Enrollment in online universities continues to increase year after year. But how do these programs compare to traditional, face-to-face education? Learn more today about how an online education compares to traditional, on-campus learning.
What percentage of students take their classes online?
Do online learners learn as well as those in traditional classrooms?
How do students who have taken courses online fare on tests when compared with their traditional counterparts?
The State of Online Learning:
The total number of students enrolled in online courses: 6,700,000
Current number of accredited online universities: 275+
Amount of college students who have enrolled in at least one online course: 30%
Whether online or in a traditional institution, 67% of college instructors believe video, blogs, podcasts, and other online media are necessary teaching tools.
What are Students Studying?
Most Popular Bachelor's Degrees for Traditional Learning:
Business
Accounting
Nursing
Psychology
Elementary Education
Most Popular Bachelor's Degrees for Online Learning:
Psychology
Business
Elementary Education
Nursing
Health Administration
A Quality Education
77% of educators believe that online learning is just as good as traditional learning, if not better.
Nearly 70% of all students claim online instruction to be as good as or better than in a traditional classroom setting.
26% of online students claim to learn better online than in a classroom.
Online learners score higher on standardized tests:
The average score of classroom learners: 50th percentile
The average score of online learners: 59th percentile
There is a 5:1 ratio by which learners differ
A 5:1 ratio by which learners differ means that the slowest student takes 5 times as long to learn as the fastest student.
90% of these learners will successfully reach higher levels, but only if given enough attention.
Face-to-face instruction is the best approach for providing these levels of attention.
Fortunately, 97% of online institutions' courses offer student/faculty ratios of 25:1 or better.
Getting Your Money's Worth
Online degrees cost as little as 80 times less than traditional degrees
Total average cost of traditional degrees: $85,000
Total average cost of online degrees: $30,000