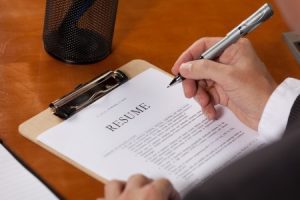 Looking for the right job takes just a much work as a full-time position. To find the right job and get one within a short time frame, there are a couple of things that you can do to your resume to help it stand out from the crowd. Here are three resume writing tips you will want to consider to make your job search go faster.
Using Relevant Industry Keywords
When you are searching job boards for the right position to fill, you may find yourself looking for certain industry keywords that tell you what the job is about and whether your skills will match. The same idea can be applied to your resume. Before submitting to a company, make sure that the relevant industry keywords they use the job listing also appear on your resume, as long as they read well.
Tailoring Your Work History
Whether you have only had one previous position or many, it is important to tailor your resume to provide only the most useful information for the company you want to work with. You may be proud of your part-time retail job that you worked at during college, but if you are going into a completely different industry such as teaching or engineering, the skills are not necessarily relevant.
If you don't have relevant work experience, you can include other ways you have gain applicable skills such as volunteer work and extracurricular programs.
Add Follow-Up Information
The best way to show a company you are interested in the job is to apply, have a good interview and then follow up after the interview. When it comes to your resume and cover letter, make sure you are specific about when you will follow up. Many great applicants will tell recruiters in the cover letter that they will follow up within a week after they have received the application.
If you are interested in learning more about searching for the right position and how to get your resume ready for applying, please contact us.
Interested in pursuing a degree?
Fill out the form and get all admission information you need regarding your chosen program.
This will only take a moment.