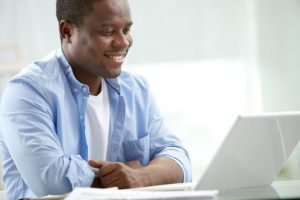 If you've been thinking about pursuing a degree but are worried about how to fit an education into your busy schedule, you'll be glad to know that it's more than possible to earn a degree while keeping your life in balance. Whether you have a job, kids, or other commitments that make flexibility a must, an online degree can give you the training you need to take the next step in your professional life.
Fortunately, in addition to being flexible and rewarding, earning an online degree is a straightforward process. Here are six essential steps to getting an online degree:
Think About Your Future Goals. As with any type of degree, it's important to think about what you want your online degree to do for you. Are you at the beginning of your career? Are you building your qualifications for a promotion? Are you changing fields? The answers to these questions will help you decide what type of degree to pursue, and how to get the most out of your degree once you have it.
Choose Your Degree. Once you have a good sense of your future goals, it's time to think about which type of degree will give you the most leverage in reaching those goals. You'll first need to decide whether you're looking for a certification, an undergraduate degree such as a Bachelor's or Associate's, or a graduate degree such as a Master's. You'll also need to choose a degree in your field of interest. Make sure to take time to look over the degree's curriculum to make sure you'll be getting the training you need.
Find The Right School. Finding the right school can depend on a number of factors. It's important to check that the school offers your program of interest online. Once you've done that, you'll want to look into the school's accreditation. Reputable schools such as University of the Potomac often have this information on their websites. Finally, you'll want to check tuition rates and financial aid options to ensure that you'll be able to finance your degree.
Enroll In Your Program. Fill out the program's application form, paying attention to make sure that you've submitted all the required materials. You'll typically need to submit a few documents including official test scores, transcripts from schools that you've previously attended, and prior training certificates. The specific documents will typically vary depending on your intended program.
Plan Your Schedule. Although an online degree is highly flexible, you'll want to put some thought into how your studies will fit into your schedule. Block out some time to devote to your education. That way you'll be sure that you won't fall behind on studying. You'll appreciate the effort that you put into your education; not only will it help you earn better grades, but spending some time focused on your education will make you more competent when it's time to put your education to use in the professional world.
Earn A Degree. If you follow the steps above, you'll be well on your way to earning your online degree. Before you know it, you'll be graduating and moving on to the next exciting steps in your life!
University of the Potomac offers a wide variety of accredited, in-demand degrees and certificates that you can earn online. Earning a degree from University of the Potomac will give you the skills you need to succeed professionally, giving you the knowledge and confidence to pursue new professional opportunities. With flexibility and excellent results, earning an online degree with University of the Potomac is one of the best choices you can make for your career.
Please contact us or visit our website to learn how University of the Potomac can help you reach your educational goals.