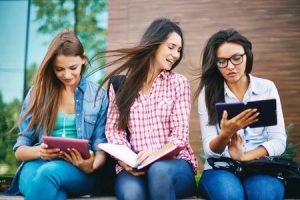 Whether you're an international student applying to come to the U.S. for the first time or you're about to graduate and apply to schools for a Master's degree or a Ph.D., there are certain things you'll need to keep in mind.  Applying to schools in the U.S. is a lengthy process which involves filling out forms, writing essays, getting recommendations, sending in writing samples and taking standardized tests.  You need to know early on exactly what your plans are going to be; you can't decide to go to school at the last minute.  There are schools that offer rolling admissions but most schools have deadlines in December or January.  So be ready to send your applications in at this point.
Essay.  The essay or personal statement is one of the most important elements of your application.  It can really make or break your chances of getting in.  So you need to make sure that you're sending in your best work.  Ask yourself whether the essay you have written is truly everything that you're capable of.  If it isn't, then start again.  You may have to write 3-4 essays before you end up with something that you truly feel proud of.  Don't think of this as a waste of time because it's probably the most important thing about your application.
Tests.  If you're going as an undergraduate, you'll have to take the SAT and possibly, the TOEFL.  A graduate student will have to take the GRE, GMAT or one of a number of other tests, depending on what field you plan to go into.  Although you may be a great student otherwise, you still need to study for these tests.  It's important to build up your speed so that you're able to answer the questions in the time allotted.  There are a number of books available on the market that can help you to prepare for these tests, such as the Peterson's guide or the Barron's guide.
Recommendations.  When it comes to recommendations, make sure to ask professors with whom you have a good rapport.  There may be professors in whose classes you're doing well.  But if you don't talk to them much, it may be a better idea to ask other professors with  whom you've communicated in the past.  Make sure you give them enough time to write the recommendations.  You can either give them stamped envelopes to send in the recommendations or tell them to paste the envelopes shut and sign over the flap before returning them to you.  This way, the schools you apply to will know that the recommendation has not been tampered with.  Many schools also allow email recommendations nowadays.  If your professor prefers this, you can give him/her a list of email addresses to send the recommendations to.
Overall, make sure that you're professional in the way you present yourself but also try to give the admissions committee a glimpse into who you really are.  The more you do this, the more you're likely to succeed in the application process. Contact us for more information.
Interested in pursuing a degree?
Fill out the form and get all admission information you need regarding your chosen program.
This will only take a moment.