International Business Degree
Degree Overview
International Business Degree Overview
International Business degrees have become very important in our global market.  With more and more companies pursuing global influence, Potomac's Bachelor Degree in International Business gives many advantages:
International Business Careers
 International Business Careers
International Business and International Relations were both listed in Payscale's top 50 of "Careers that Pay You Back" in their 2014 salary report, beating out regular business and even healthcare careers.
Potomac's Bachelor of Science degree in International Business prepares students to succeed in a global business environment. Our International Business faculty have international experience in addition to their strong business credentials and students benefit from the global perspective they bring to the classroom.

Positions Available with a Bachelor of Science Degree in International Business
Account Manager – International Transportation Logistics
Administrative Director — Center for International Business Education and Research
Branch Manager – International Logistics
Business Analyst-SDLC
Director of International Business
Director of International Education and Training
Director, International Environment and Trade Policy
International Business Development Representative
International Contracts Manager
International Liaison Specialist
International Long Distance Liaison
International Marketing Coordinator
International Medical Claims Representative
International Payroll Specialist
International Recruitment Manager
Marketing Analytics Manager – International
National and International – Account Executives
Research Analyst-International Affairs
Senior Account Executive- International
Senior Director of Emergency and International Services
Senior International Logistics/Purchasing Specialist
Program Outline
International Business Degree
International Business Program Mission
The mission of the Bachelor of Science degree in International Business is to prepare students with fundamental managerial skills to succeed in a global business environment and to pursue careers in managerial positions in public or private companies and in non-profit organizations.
International Business Program Learning Goals
Graduates of the Bachelor of Science Degree in International Business are able to:

Analyze how social, economic and political paradigms impact ethical issues in various international business strategic planning situations.
Work in teams, use critical thinking to analyze and solve problems and effectively communicate legal issues pertaining to international business law and international business operations.
Utilize written and oral communication to effectively analyze and synthesize economic and financial information with an emphasis on international business.
Evaluate nature, significance and context of managerial activities as undertaken by leadership in various organizations in international business contexts.
Apply technology to analyze problems, develop business analyses and recommend management decisions and actionable strategies that relate to international business management, marketing and finance.
Global Business Professional
The lower division required international business courses prepare students for the examination leading to certification as a Certified Global Business Professional offered by NASBITE.ConcentrationsStudents majoring in International Business may select six upper division elective courses in management or choose one of the following concentrations to add an additional focus to their studies:
Government Contract Management
Prerequisites for Upper Division Courses

Successful completion of general education course requirements
Successful completion of MGMT235
International Business Program Outline
To receive a Bachelor of Science degree in International Business, students must earn 120 semester credit hours. Unless noted otherwise, all courses carry three semester credits hours. Program course requirements are listed in the credit requirements section below.
BACHELOR OF SCIENCE IN INTERNATIONAL BUSINESS
General Education Requirements (18 Credits)
COMP 125 The Digital World
ENGL 101 English Composition I
ENGL 102 English Composition II
GNED 112 Student Success Strategies
MATH 106 College Mathematics
Lower Division Core Courses (42 Credits)
Required Management Courses (21 Credits)

ACCT 101 Financial Accounting
BUS 110 Foundations of Business
BUS 202 Critical Thinking and Decision Making
BUS 230 Business Ethics and the Legal Environment
ECON 201 Principles of Economics
FIN 230 Fundamentals of Finance
MGMT 250 Introduction to Business Analysis
Required International Business Courses (21 Credits)

BUS 270 International Business Law
BUS 290 Strategies for International Business Ventures
MGMT 218 Comparative Economic Systems
MGMT 235 International Business
MGMT 260 Cross Cultural Management
MGMT 275 International Trade and Practices
MRKT 230 International Marketing
UPPER DIVISION REQUIREMENTS (60 Credits)
General Education Requirements (12 Credits)

ENGL 395 Research and Report Writing
MATH 323 Research and Statistical Analysis
PSYC 201 Principles of Psychology
SCIE 312 Environmental Science and Sustainability
Upper Division Core Courses (30 Credits)

BUS 310 Export/Import Marketing
MGMT 303 International Business Management
MGMT 305 Organizational Communications
MGMT 311 Supply Chain Management
MRKT 424 International Marketing
FIN 350 International Banking and Finance
MGMT 435 Strategic Management and Planning
MGMT 440 International Organizational Development
Strategies
MRKT 450 New Product Development (US and Global)
Electives (18 Credits)
Any 18 credits or one of the concentrations below

ACCT 308 Assurance and Audit Services
ACCT 402 Corporate Taxation
ACCT 450 Advanced Financial and Tax Accounting
BUS 320 Advanced Business Law for Accounting
FIN 310 Investment Analysis and Portfolio Management
FIN 330 Corporate Finance
FIN 340 Financial Reporting and Analysis
FIN 350 International Banking and Finance
FIN 400 Derivatives and Risk Management
Government Contact Management Concentration
MGMT 308 Government Contract Law
MGMT 326 Principles of Federal Acquisition (FAR and DAR)
MGMT 330 Purchasing and Material Management
MGMT 332 Cost and Price Analysis
MGMT 350 Contract Administration
MGMT450 – Contract Modification and Options
Healthcare Management Concentration
HLTH 303 Information Systems for Health Systems
HLTH 400 Societal Health and Policy Issues
HLTH 403 Global Health Administration
HLTH 405 Healthcare Financial Management
HLTH 435 Strategic Healthcare Planning
MGMT 411 Total Quality Management
Information
Information Management Concentration
CBSC 301 Introduction to Digital Forensics
CBSC 405 Security Policies and Procedures
MCAP 351 Management Support Systems
MICS 341 Systems Analysis and Design
MICS 455 Computer Networking and Telecommunications
MICS 461 Database Management
MCAP 303 Organization and Technology of Information Management
MGMT 365 Managing Conflict and Change
MGMT 417 Human Resource Management
MGMT 424 Negotiations Management
MGMT 427 Operations Management
MRKT 424 International Marketing
MRKT 425 Consumer Behavior
MRKT 427 Marketing Management
MRKT 450 New Product Development (US and Global)
MRKT 490 Marketing and Social Media
TOTAL CREDITS
– 120 CREDITS
Tuition & Fees
Tuition and Fees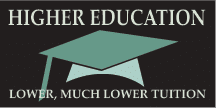 Domestic: It is our goal for every student to graduate with little or no debt. This starts with reasonable tuition and coupled with a modest resource fee that covers all e-textbooks, online library access, and many other resources to help enhance our student's learning.
Domestic Tuition and Fees – Click Here>>
International: University of the Potomac welcomes students from across the globe. Tuition, coupled with a modest resource fee covers all e-textbooks, online library access, and many other resources to help enhance our student's learning
International Tuition and Fees – Click Here>>
Financial Aid: If you need it, we also offer financial aid options including Pell Grants, federal loans, and more.