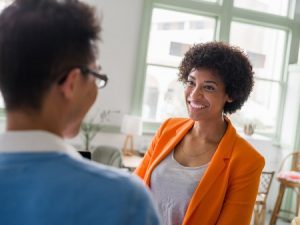 When we meet someone, the first impression we give is more important than what we say. How we dress for an interview represents how we feel about ourselves as a person. People use their eyes first and then their ears. Besides having exceptional hygiene, dressing for success is a must have when preparing to interview for the job.
Here are a few interview skills and tips to follow before you leave the house. Many of these are common sense, but it is always nice to have reminders, especially during such a crucial time as a job interview.
Never dress for an interview with an article of clothing that is ill fitted and out of fashion. In fact, try to find something that is flattering on you. Ask a professional for their opinion if you are uncertain. If your dress or suit doesn't look well on you, you won't feel as comfortable in your own skin.
Walking into a conservative office while wearing high heels and a flashy top is more than likely not appropriate. If you can, drive to place of your interview the day before your meeting and see how other people dress. Many work environments have a dress code. Does it seem like a suit and tie or a little more casual? Try to dress significantly better than the people who are currently employed there.
Keep hair and make-up to a minimum. Subtle and classy is a good rule to follow. As mentioned, good personal hygiene says that you take care of yourself and are in control your appearance.
As a final thought, when you meet your interviewer, always give a firm handshake and look them in the eyes. When you present confidence in yourself and how you look, this will be the easy part. Looking your best will give you a boost and set the bar for the rest of your interview. If you'd like more information on how to impress during an interview, please contact us.
Interested in pursuing a degree?
Fill out the form and get all admission information you need regarding your chosen program.
This will only take a moment.