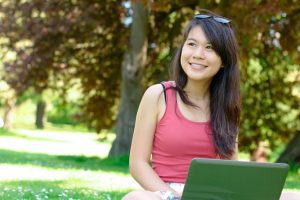 In 2015, everyone should know that they can earn an online mba, but is it a good idea? As it turns out, there are huge benefits and advantages to earning your degree online.
A recent Huffington Post column spells out the practical advantages:
1. Less time and debt – It might still take a couple of years, but you can put in fewer hours per week and spend less per year. A traditional MBA could set you back over $100,000. Stanford University charges $61,000 per year.
2. Higher income – This is the most obvious advantage of an MBA, to most people. The MBA can bring a graduate at least a few thousand dollars extra per year. Many experienced students will earn more money.
3. Greater employability – The employment rate for MBA graduates was 95% nationwide. That bodes well for your prospects if you expect to be unemployed when you graduate, of if you want to transition to another industry.
Online education is not what it was many years ago, when you could get some lessons by email, do the homework, submit the homework. This sort of self-directed learning is not a good choice for many adult learners, perhaps most.
Fortunately, today's online learning programs feature mentoring for academic advisers, chat rooms, message boards, and regular contact with a professor. If you can motivate yourself to succeed in a regular classes, you can handle an online learning program.
Consider an online MBA if you don't want to drop out of the labor force for a couple of years, or if this is not possible because of your other commitments. Most working college graduates fall into one of those two categories.
To talk more about an online MBA, or anything else, please Contact Us. Thanks.
Source: http://www.huffingtonpost.com/ashley-wren-collins/gaining-the-competitive-a_b_8022872.html