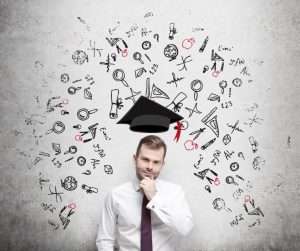 There are a number of degrees available, and it can be difficult to decide which one is the best fit for your professional goals. In particular, many people find themselves debating whether to pursue a Master's in Healthcare Administration (MHA) or a Master's in Business Administration (MBA). At first glance, these two degrees can be difficult to tell apart. After all, they both provide high-level training in administration, equipping graduates to succeed in a variety of management positions. There's a significant amount of overlap between the two degrees in terms of business training, and both degrees are certainly in high demand. However, there are some key differences between MHA and MBA degrees.
In case you're thinking about taking the next step in your education but are confused about whether an MHA or an MBA is right for you, we've outlined the main differences below.
Master's in Business Administration
An MBA tends to be the more versatile of the two graduate degrees, providing training that applies to management across a number of fields. The benefit to this versatility is that MBA graduates are equipped to leave school and enter nearly any field. Furthermore, holding an MBA makes it easier to change career fields in the future. While an MBA lacks the specific focus on healthcare management that an MHA encompasses, an MBA does leave students with more flexibility in terms of future job prospects.
With an MBA you'll be well versed in the financial and business aspects of management, with a broad understanding of how businesses are run. An MBA is ideal for students who wish to pursue careers in accounting, finance, information technology, and marketing, among other options. For students who wish to have a broad training and are not committed to pursuing a career in a health field, an MBA could be the right choice.
Master's in Healthcare Administration
In contrast to an MBA, which is a broad, versatile degree, an MHA is a more specialized graduate degree. While an MBA program provides general training in business administration, an MHA program typically places more of an emphasis on healthcare management. The best MHA candidates are typically students who plan to build a career within the realm of healthcare. This can include management positions in hospitals, private practices, nursing homes, insurance companies, and other medically based organizations. Although the emphasis on healthcare management can make it more difficult for an MHA student to find management positions outside the field of healthcare, the focus on management within a healthcare context gives MHA students a distinct advantage in the healthcare management field.
According to the Bureau of Labor Statistics, Medical and Health Services Management is a growing field, with 23% projected growth over the next several years. Furthermore, although an MHA provides a more specific training than an MBA, keep in mind that there are numerous career options available within the field of healthcare. An MHA is a valuable degree that can open up fantastic opportunities within your field of interest. If you know that you want to pursue a career in the healthcare field, then an MHA is a great choice.
Regardless of which degree option you choose the MHA or MBA, University of the Potomac is here to help you obtain a high quality education on your schedule. We offer MBA and MHA degrees, as well as a variety of other degrees and certificates. Whether you decide pursue an MBA, an MHA, or another path for your education, you can rest assured that University of the Potomac is a smart investment in your future. To learn more about how University of the Potomac can help you take the next step in your education, please visit our website or contact us!