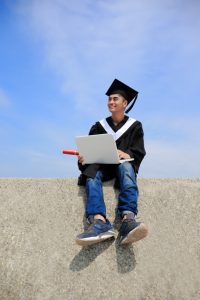 Information Technology (IT) is a growing field with many job prospects. With greater integration of technology in all industries, it's easy to find an IT job across multiple fields. From building and maintaining intranets, creating data management systems for analysis, to building new software, IT can cover a range of roles and solve a wide variety of problems. But what exactly can you do with an associate degree in IT? Here's your basic guide to understanding the benefits you can gain with an associate degree in IT.
What is Information Technology?
Information Technology is a broad field that describes how computers and technology share, transfer, store, and communicate data. The field includes intranet building, computer troubleshooting, and data storage, security, and analysis. IT is also integral to other industries, including healthcare, banking, engineering, or education. Overall, its extensive application offers you opportunities in many careers and fields.
What Do You Learn with an Associate IT degree?
At the University of the Potomac, our associate degree program in IT provides classes that give you broad skills that prepare you to enter your chosen field with flexibility. Our required computing and management courses cover programming, database management, systems technology, calculus, algebra, and communications, which are all needed for any position in the IT industry. Our program also allows you to focus your classes in a particular field, such as foundations of business or financial accounting for working with small businesses and corporations.
In your classes, you'll learn necessary computer and communications skills and build your own databases and software to understand their applications. You will have the opportunity to work with current and updated versions of data management systems and applications that are typically used throughout the IT industry.
What Kinds of Opportunities Does an Associate Degree in IT Provide?
The information technology industry covers many fields, from data management to intranet building, and computer support to web design. Typical job titles for people with an IT degree include:
Systems Engineer
Computer Support Specialist
System Administrator
.net Developer
IT Specialist
Security Engineer
System Programming Sales Executive
Technician
Database Administrators
Web Developers
Software Developers
Many of these jobs are found in a range of environments: for example, a healthcare provider might hire a security engineer to keep patient data confidential. Or, a business might hire a database administrator to organize sales and earnings.
Career Outlook and Earnings
Job listings in the IT field are growing faster than average, with the U.S. Department of Labor predicting an average 12% growth through 2024 over many different sub-fields. For computer user support specialists, the average growth expected in job openings is 17%. The need for computer network support specialists are also growing at 15%. These numbers suggest a steady and constant need for educated professionals in these fields.
Interested in pursuing a degree?
Fill out the form and get all admission information you need regarding your chosen program.
This will only take a moment.
In addition to their expected growth, the potential earnings from these fields are great: for example, the median pay for computer support specialists with an associate degree in 2014 was over $50,000 at over $24 an hour. And you can expect increased earnings with more experience or a second degree. For example, computer systems analyst with a bachelor's degree earned a median pay of close to $83,000 a year. With that kind of growth and potential earnings, an associate degree in IT is worth the investment.
Earning an associate degree in IT at the University of the Potomac promises a robust curriculum that will prepare you for many jobs in the IT industry after graduation. Paired with our extensive, helpful alumni network and career center, we can give you the necessary tools to succeed in the field, whether you are working online at a distance, or attending classes on our campus. To learn more about our IT degree programs, contact us.