Network Security Management Degree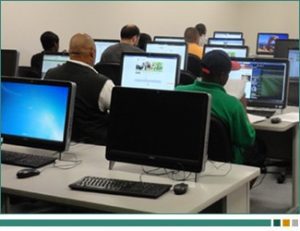 Earn your network security degree with Potomac's affordable Network Security Management associates program online or on campus. With extensive classes in computer networking and internet security, students will graduate with the skills to implement total security programs and monitoring online security.
Degree Overview
Associate in Network Security Management Degree Overview
The Network Security associates program is an interesting, in-depth education program planned to place graduates in successful career positions. At Potomac, each  class in the network security degree program is highly focused and detailed, yet part of a broad-based curriculum that balances relevant legal and ethical issues with hands-on procedures and techniques required in the network security management profession today. Potomac's Associate in Network Security Management gives many advantages:
Program Outline
Network and IT Security Overview
The Associate of Science Degree in Security Management program at University of the Potomac consists of extensive courses in computer networking and Internet security. These courses address protocols used to access and transfer information over both public and private networks. Students also learn about fundamental loss prevention concepts, how to implement a total security program and the methods used to protect and assess online information resources. Modern businesses have huge investments in the virtual world of cyberspace. These investments require professionals who are well versed and experienced in a wide range of knowledge and technological security to monitor and oversee them.
Program components in computer and online forensics cover several different areas. These areas include tracking offenders, hiding data, encryption and computer investigation. Students develop a thorough understanding of running information technology systems, while simultaneously pursuing a scrupulous program in effective security management.
Network Security Program Mission
The mission of the Associate of Science degree in Network Security Management is to prepare students to manage information technology systems with an emphasis on loss prevention concepts, computer forensics, encryption and computer investigation.
Network Security Program Learning Goals
Graduates of the Associate of Science in Network Security Management are able to:
Demonstrate a technical level proficiency in the application of technical knowledge associated with course content.
Demonstrate written and oral communication skills through the organization of a project or presentation.
Apply knowledge of emerging technology, together with new and/or updated software and hardware in network security management.
Integrate business and technology skills in a sector context.
Select and implement an appropriate technology for solving a business issue or case.
Network Security Degree Program Outline
To receive an Associate of Science degree in Network Security, students must earn 60 semester credit hours. Unless noted otherwise, all courses carry three semester credits hours. Program course requirements are listed in the credit requirements section below.
ASSOCIATES OF SCIENCE IN NETWORK SECURITY MANAGEMENT
General Education Requirements (18 Credits)
COMP 125 The Digital World
ENGL 101 English Composition I
ENGL 102 English Composition II
GNED 112 Student Success Strategies
MATH 106 College Mathematics
MATH 110 College Algebra
Lower Division Core Courses 
Required Management Courses (15 Credits) 
ACCT 101 Principles of Financial Accounting I
BUS 110 Foundations of Business
BUS 202 Critical Thinking and Decision Making
BUS 230 Business Ethics and the Legal Environment
MGMT 210 Introduction to Project Management
Required Computing and Security Courses (15 Credits) 
CBSC 265 Network Security Management
COMP 140 Introduction to Data Communication and Networking
CBSC 230 Computer Forensics
COMP 236 Survey of Operating Systems
COMP 251 Computer Systems Technology
Electives (12 Credits)
TOTAL CREDITS – 60 CREDITS
Tuition & Fees
Network Security Degree Tuition and Fees
The average tuition and fees for the entire program, at current full-time tuition rates, are $32,460. The total estimated cost for books and supplies for the entire program is $5,000.
Cost by Credit

All Students

$541 per credit
($1623 per 3-credit course)
Active  Military &  Immediate Family

$250 per credit
($750 per 3-credit course)
Veterans

$250 per credit
($750 per 3-credit course)
Helpful Links:
More tuition details >>
Financial Aid >>
Median Loan Debt: For all students completing this program between July 1, 2009 and June 30, 2010, the median cumulative loan debts for each of the following are: Federal student loans: $24,860 Private loans: $0 Institutional finance plans: $0 Note: This preliminary median loan data is pending confirmation from the U.S. Department of Education. It reflects total debt, including costs of living, while the median loan amount prescribed under the Department's gainful employment regulations excludes such costs of living.