Earn Your Bachelor's Degree in Accounting
Potomac offers an online bachelor's degree in accounting and two convenient campuses for students in the DC and Virginia area. The Bachelor's in Accounting is a robust program with courses designed to give students a competitive edge with real life skills for a variety of accounting roles in public, private and government careers. Additionally, students can choose one of several concentrations within the accounting program to further focus their learning and help students differentiate themselves in the marketplace.
Degree Overview
Accounting Degree Overview
Accounting continues to be a profession that is in demand. Most companies require a bachelor's degree in accounting and Potomac's Bachelor Degree in Accounting gives many advantages:
Program Outline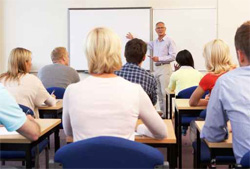 Accounting Program Learning Goals
Graduates of the Bachelor of Science in Accounting are able to:
Identify and discuss the ethical and social responsibilities of accounting professionals and apply
professional judgment to present financial statements fairly.
Prepare and analyze financial statements and managerial reports using various accounting
standards, theories and techniques.
Develop written and oral business communication skills to deliver accounting information to
appropriate users effectively.
Work in teams, analyze practical accounting problems and financial statements consistent with
real world situations.
Use technology to solve accounting problems and improve decision-making skills.
Students majoring in Accounting may select six upper division elective courses in accounting or
management or choose one of the following concentrations to add an additional focus to their studies:
Finance
Government Contract Management
Healthcare Management
Information Management
International Business
Management
Marketing
To receive a Bachelor of Science degree in Accounting, students must earn 120 semester credit hours. Unless noted otherwise, all courses carry three semester credits hours. Program requirements are as follows:
BACHELOR OF SCIENCE IN ACCOUNTING COURSES
Prerequisites for Upper Division Accounting Degree Courses
Successful completion of general education course requirements
Successful completion of ACCT101 and ACCT102
LOWER DIVISION REQUIREMENTS (60 Credits)
General Education Requirements (18 Credits)
COMP 125 The Digital World
ENGL 101 English Composition I
ENGL 102 English Composition II
GNED 112 Student Success Strategies
MATH 106 College Mathematics
MATH 110 College Algebra
Lower Division Core Accounting Degree Courses (39 Credits)
Required Management Courses (18 Credits)
BUS 110 Foundations of Business
BUS 202 Critical Thinking and Decision Making
BUS 230 Business Ethics and the Legal Environment
ECON 201 Principles of Economics
MGMT 230 Organizational Behavior
MRKT 110 Principles of Marketing
Required Accounting Courses (21 Credits)
ACCT 101 Principles of Financial Accounting I
ACCT 110 Principles of Financial Accounting II
ACCT 203 Federal Taxes
ACCT 214 Accounting Information Systems
ACCT 220 Payroll Accounting
ACCT 290 Intermediate Accounting I
FIN 230 Fundamentals of Finance
Electives (3 Credits)
UPPER DIVISION REQUIREMENTS (60 Credits)
General Education Requirements (12 Credits)
ENGL 395 Research and Report Writing
MATH 323 Research and Statistical Analysis
PSYC 201 Principles of Psychology
SCIE 312 Environmental Science and Sustainability
Upper Division Core Courses (30 Credits)
Required Management Course (6 Credits)
MGMT 305 Organizational Communications
MGMT 435 Strategic Management and Planning
Required Accounting Courses (24 Credits)
ACCT 301 Intermediate Accounting II
ACCT 320 Intermediate Accounting III
ACCT 307 Cost Accounting
ACCT 308 Assurance and Audit Services
ACCT 402 Corporate Taxation
ACCT 408 Forensic Accounting
ACCT 450 Advanced Financial Reporting
BUS 320 Advanced Business Law for Accounting
Electives (18 Credits)
Any 18 credits or one of the concentrations below:
Finance Concentration
FIN 310 Investment Analysis and Portfolio Management FIN 320 Asset Management
FIN 320 Asset Management
FIN 330 Corporate Finance
FIN 340 Financial Reporting and Analysis
FIN 350 International Banking and Finance
FIN 400 Derivatives and Risk Management

Government Contact Management Concentration
MGMT 308 Government Contract Law
MGMT 326 Principles of Federal Acquisition (FAR and DAR)
MGMT 330 Purchasing and Material Management
MGMT 332 Cost and Price Analysis
MGMT 350 Contract Administration
MGMT 450 Contract Modification and Options

Healthcare Management Concentration
HLTH 303 Information Systems for Health Systems
HLTH 400 Societal Health and Policy Issues
HLTH 403 Global Health Administration
HLTH 405 Healthcare Financial Management
MGMT 411 Total Quality Management
MRKT 427 Marketing Management

Information Management Concentration
CBSC 320 Information Security
MCAP 303 Organization and Technology of Information Management
MCAP 351 Management Support Systems
MICS 341 Systems Analysis and Design
MICS 455 Computer Networking and Telecommunications
MICS 461 Database Management

International Business Concentration
BUS 310 Export/Import Marketing
FIN 350 International Banking and Finance
MGMT 303 International Business Management
MGMT 440 International Organizational Development Strategies
MRKT 424 International Marketing
MRKT 450 New Product Development (US and Global) Management Concentration

Management Concentration
MCAP 303 Organization and Technology of Information Management
MGMT 360 Leadership
MGMT 365 Managing Conflict and Change
MGMT 417 Human Resource Management
MGMT 424 Negotiations Management
MGMT 427 Operations Management

Marketing Concentration
MRKT 350 Salesmanship
MRKT 424 International Marketing
MRKT 425 Consumer Behavior
MRKT 427 Marketing Management
MRKT 450 New Product Development (US and Global)
MRKT 490 Marketing and Social Media
TOTAL – 120 CREDITS
Tuition & Fees
Accounting Degree Tuition and Fees
The average tuition and fees for the entire program, at current full-time tuition rates, are $63,400. The total estimated cost for books and supplies for the entire program is $5,000.
Cost by Credit

All Students

$541 per credit
($1623 per 3-credit course)
Active  Military &  Immediate Family

$250 per credit
($750 per 3-credit course)
Veterans

$250 per credit
($750 per 3-credit course)
Helpful Links:
More tuition details >>
Financial Aid >>
Median Loan Debt: For all students completing this program between July 1, 2009 and June 30, 2010, the median cumulative loan debts for each of the following are: Federal student loans: $24,860 Private loans: $0 Institutional finance plans: $0 Note: This preliminary median loan data is pending confirmation from the U.S. Department of Education. It reflects total debt, including costs of living, while the median loan amount prescribed under the Department's gainful employment regulations excludes such costs of living.
Accounting Careers
Accounting Career Outlook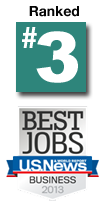 U.S. News ranks Accounting careers as #3 for Best Business Jobs.  With changing tax laws and added regulatory requirements as a constant part of our economy, there will always be need for accounting professionals to monitor finances and make sure companies stay in compliance.
Projected accounting job growth estimated at 16% by 2020
The accounting degree will prepare you for careers including, but not limited to: public and private accounting, auditing, financial analysts, compliance and more. For information on jobs related to this program, as well as the U.S. Department of Labor Standard Occupational Classification (SOC) Codes, please click on the links below to the O*NET website sponsored by the U.S. Department of Labor.
Accounting Career Information
For information on jobs related to this program, as well as the U.S. Department of Labor Standard Occupational Classification (SOC) Codes, please click on the links below to the O*NET website sponsored by the U.S. Department of Labor.
Accounting Salary Information Links:
Salary.com
Bureau of Labor Statistics

Accounting Careers:
Senior Project Accountant
Senior Accountant ( Non-Profit Organization)
Manager, Financial Planning and Analysis
Associate Accounting Manager. Investment Treasury
Audit Manager (Non-Profit Organization)
Assistant Manager-Project Accounting
Central Control Group Associate
Senior Subcontracts Administrator
Accounting/Finance Vice-President
Staff Accountant-General Accounting
Cost Accounting Consultant
Accounting Staffing Executive
Principle Financial Analyst
Federal Accountant/ Audit Specialist
Tax Accounting Manager III
Federal Accounting/ Audit Specialist
Accounting Management/Property
Government Contract – Senior Accountants
Senior Accounting Analyst
Finance Accounting Analyst
Revenue Accounting Manager
Director of Client Service – Accounting/Finance
Senior Accounting Analyst
Public Accounting Auditor
Associate Accounting Manager – Investment Treasury
Regional Accounting Manager
Controller/Accounting Manager
Federal Accounting Consultant
Manager of Client Accounting
Real Estate Accounting Manager
General Ledger Accounting Manager
Corporate Accounting Manager
Manager, Regional Accounting
Director of Tax and Regional Accounting
Senior Accountant/Accounting Manager/Controller
Senior Manager, Accounting Policy
Accounting Services Manager Federal Practice
Audit Manager – Non-Profit Organization
Assistant Manager, Project Accounting
Accounting Services Senior Manager- Federal Practice
Manager- Rental Property Accounting
Product Accounting Manager
Senior Accounting Analyst – Litigation Support
Accounting Manager- Specialty Revenue
Corporate Accounting Manager
Corporate Accounting Consultant
Senior Accounting Supervisor
Accounting & Reporting Manager
Financial -Accounting Manager/Supervison
Director of International Accounting Operations
Manager, Payroll Accounting
Director of Investment Accounting
Construction Accounting Manager
Senior Property Accountant
Finance Analyst – Business Development
Vice President of Finance
Senior Development Accountant
Internal Audit/Risk Management Manager, Director
Federal Accounting & Financial Management Consultant
Grants and Contract Manager
Director, Internal Audit and Regulatory & Compliance
Assurance Manager DC Public Sector
Architecture Senior Accountant
Senior Billing Specialist
International Tax Manager
Manger of Financial Reporting
Financial Due Diligence Director
Director of Financial Operations
ACCOUNTING DEGREE APTITUDE
What kind of math skills will I need for an accounting degree?
While math is important for an accounting degree, you will not need to be a complete math genius to get through your accounting degree.  You may be pleasantly surprised to find out that the most important math skills you will need are typically the math fundamentals and some ability to learn statistics.  So if you struggled with high school calculus, don't worry.  The theoretical math will not come into play as much with an accounting degree.  Accounting graduates need a much more broad based math skill set with less theoretical than most would expect.  With the exception of some of the higher accounting degrees, it will be your basic math skills and algebra that will help you most. So don't shy away from an accounting degree because you think you needed to be an A student in calc, trig or geometry. If you generally enjoy the more practical math classes and it makes sense to you. You should be fine.
What other kinds of skills do I need for be successful in an accounting degree?
Some of the most important strengths for you to succeed in accounting will be the ability to use your computer and analyze and interpret data. A lot of the math work these days is handled by the computer so good computer skills are very important.  The ability to work with a program and a general understanding of how to enter the data and interpret it after the computer has done its job will help you a lot.  Additionally, if you have good quantitative and problem-solving ability you are a good candidate for an accounting degree.
SUCCESSFUL ACCOUNTING DEGREE/CAREER PERSONALITY
The stereotypical picture of the quiet, mild-mannered accountant secluding himself in his office is not the true picture of what type of personality traits make accountants most successful.  According to a study done by University of Tennessee, "Personality Traits and Career Satisfaction of Accounting Professionals" (http://www.aejournal.com/ojs/index.php/aej/article/viewFile/37/37), extraverted individuals are correlated with greater success and career satisfaction. They were most often promoted and liked their jobs better than their introverted counterparts.  The most dominant personality type for accounting students is ESTJ ( Meyers Briggs).  So if you are more extraverted and are concerned that you may not fit the stereotypical 'quiet auditor' role, don't worry. You are in good company with some of the most successful accounting managers and supervisors out there.
Other positive traits you may have expected that correlate well with accounting are 'attention to detail' and as stated earlier 'problem solving'.  Accountant put in heavy hours during tax season so anyone considering a degree in accounting should consider the cyclical bump in workload that occurs during that time. Work is typically billed by the hour so you should also be comfortable with keeping track of your time.
IMPORTANT SKILLS FOR ACCOUNTING
1. General accounting
2. Accounts payable and receivables
3. Account reconciliation
4. Understanding of General Ledgers and Financial Statements
5. Financial reporting
6. Bookkeeping
7. Auditing
If you would like to learn more about accounting degrees, we encourage you to call our admissions reps who can answer more of your questions at 888-635-1211.