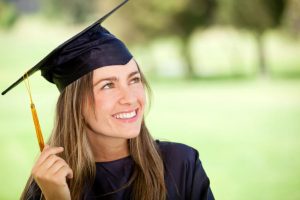 Earning a bachelor's degree gives you the extra advantage that you need to succeed in your chosen career field and future.
On average, those who have a bachelor's degree earn more money over their working lifetime than people with associate's degrees and high school diplomas.
The Numbers and Facts
According to hamiltonproject.org, which focuses much of its efforts on economics, academics, and thought leadership, out of 80 major programs studied, the median income across all majors was higher than the "median earnings of high school graduates," which was true across the board.
Further, 76 of the 80 majors studied "are at least as high as median earnings for associate degree holders," with the exceptions being early childhood education, elementary education, home economics, and social work.
In regards to trends in monetary factors, cumulative lifetime career earnings for those with a bachelor's degree was around $1.2 million, "which is twice what the typical high school graduate earns, and $335,000 more than what the typical associate degree graduate earns."
A Degree Makes a Difference
A bachelor's degree can change your life in more than one way. Those who choose to advance themselves academically go on to enjoy a much more fulfilling and satisfying life, even aside from earnings and salary.
According to a study done in 2012, happiness and a college education are directly related. It goes on to point out that those with post-graduate degrees are even happier than those with all other degrees, which is a fact that works as increased motivation for further education.
An additional study published in 2012 also points out how beneficial a liberal education is to a student's happiness levels. In addition to a richer and more fulfilling life, a bachelor's degree helps "unlock human potential," and increased stability.
From the article:
People who don't pursue a college education are at a competitive disadvantage to find opportunities they can plug into to make a living…  It is the door to opportunities and experiences that enable people to be civically engaged in a broader community.
More Reasons to Strive
According to collegeatlas.org, there are many reasons to earn a bachelor's degree that aren't directly related to money or happiness at all.
Opportunities: A bachelor's degree increases job opportunities in fields that the degree isn't even in. Many degrees can cross boundaries and fit into related places. To some employers, even just having a degree makes you a candidate, even if the job in question is outside of your field of expertise.
Work Benefits: A college degree also earns you greater benefits as an employee. According to a study done in 2008, cited directly oncollegeatlas.org:
70 percent of individuals with a four-year college degree received health insurance from their employer… while less than 50 percent of employees with only a high school diploma received the same benefit.
Benefits to Children: For those with families and children, a bachelor's degree will directly impact those that you love the most. In addition to providing a more socially and economically sound home, a bachelor's degree causes a "ripple effect" of security and happiness for years to come.
A bachelor's degree has a positive impact on the lives of those who choose to better themselves through education. By giving yourself the opportunity to go on to great things, you are effectively granting yourself carte blanche for the future.
We hope that the information that we provided you today inspires you to take that next step towards a better you and a brighter future.
If you're ready to take the next step in your life, we're here to help. Please contact us today to find out more about our degree programs.
At University of Potomac, we offer bachelor's degrees in Accounting, Business, Cyber Security & Policy, Government Contract Management, Hospitality & Tourism Management, Information Technology, and International Business.
For more information about graduation rates, programs, and more, please view our disclosures and consumer information.