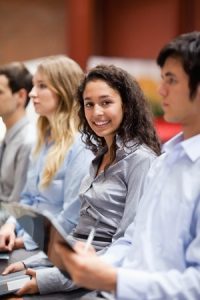 With the economy still sluggish and news of horrendous student loan debt coupled with many young people not being able to find jobs, the question naturally arises why having a bachelors degree is still important. According to a recent study cited by CNN, having a college degree is actually more important than ever.
The study was conducted by the Organization for Economic Cooperation and Development and looked at a number of countries, including the United States. It turns out that in the United States, the rate of return for a college education is 12.3 percent over the lifetime of a graduate. This figure was arrived at by calculating the costs of getting a bachelors degree, such as tuition, and comparing it to the average increased income of college graduates vs. those who did not complete a college degree. The net lifetime benefit for having a college degree in the United States is $365,000 for men.
The reason that a college degree is even more important during times of economic distress derives from the way that companies screen job applicants. If a company advertises a job position, it is very likely that it will receive a great many applications for one or two open positions. One of the ways that companies screen applicants is to reject out of hand those who do not have college degrees. This may or may not be relevant to the job being offered. Obviously a finance degree is good to have for a job at a bank or brokerage house and a information science degree is essential for working at a computer firm. But any kind of bachelor's degree is better to have, especially in the current market, than none at all.
For more information about earning a bachelor's degree, contact us.