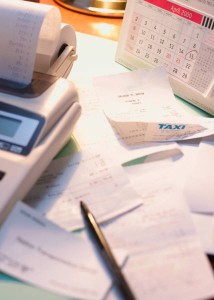 Majoring in accounting is something that many avoid simply because it sounds like a hard subject. All of the debits, credits and long hours of studying may seem daunting. However, if you are able to graduate with a bachelor's degree in accounting, you have exciting and lucrative employment prospects. The coursework involved in getting your degree includes general and advanced curriculum.
General Education
All students have to take general education classes along with the specific coursework for their major. There are mandatory and elective classes giving you balance in your course load. Mathematics, psychology, English composition and statistics are all classes business majors must take. These types of classes are designed to make you well-rounded and prepare you for a career in business.

Accounting Basics
Financial accounting and management accounting are two of the first subjects you will encounter as part of your accounting education. Financial accounting covers concepts related to the dual entry system of accounting and the basic financial statements for private entities. Management accounting covers job costing and cost of goods sold among other important subjects. Introductory accounting courses are challenging but by no means are they insurmountable.
Advanced Coursework
Accounting for inventory, construction contracts and accounts receivable are just a few of the things you will learn about in your upper division accounting courses. This is where you learn more about the nuances of the general ledger and how to maintain it. These classes are designed to prepare students for the Certified Public Accountant exam. The rigor of these classes is hard for some, but with the right attitude and determination it is possible to succeed.
Upper division accounting courses include:
Cost Accounting
Assurance and Audit Services
Risk Analysis
Corporate Taxation
Advanced Business Law for Accounting
Getting your degree in accounting is a process that takes diligence and determination. Once you graduate, you have numerous career options available to you. Contact us for additional information on getting your accounting degree.