Despite the industry, every company tries to avoid making wrong financial decisions that would lead to major business crashes. And if there's one thing every corporation is scared of, it is financial loss. Fortunately, we have financial managers to take care of this part. 
You can scroll down to learn more about this career, the qualifications required, how to become a financial manager, what skills you need to land a job, and how long it takes to become one.
What Is a Financial Manager?
A financial manager is a qualified professional who oversees an organization's financial part to ensure financial stability. They bring financial stability through thorough market analysis and connecting the financial market with the organization via several investments and financing opportunities. They work with leaders and different departments to ensure that every financial decision will benefit the company. 
Financial managers are capable professionals with years of experience in financial-related careers and various skills and abilities. They work in different industries, including healthcare, government, manufacturing, finance and insurance companies, banks, etc. 
How to Become a Financial Manager
The path to becoming a financial manager requires preparation and willingness to succeed. A finance manager's career begins with a bachelor's degree. However, the course to becoming a successful financial manager goes beyond a bachelor's or master's degree. Additional credentials and relevant experience will help you make it to advanced positions and show value to employers.
The guide below gives an in-depth explanation of how to become a financial manager.
Financial manager education requirements
As mentioned above, a finance manager's career begins with the proper education. If you aspire to pursue such a career, you need a bachelor's degree in finance, economics, accounting, business administration, or similar. It would be best if you mainly focused on financial planning, general business, and microeconomics when considering different courses. These are a few of the general education requirements that are listed for financial entry jobs. 
If you want to showcase more advanced skills and knowledge, go for a master's degree in finance or any of the previously mentioned degrees. Considering the demand for highly knowledgeable professionals in financing a master's degree will set you apart from other candidates, and you will easily land any desired position. 
As put earlier, the path to becoming a successful financial manager continues even after putting in educational efforts. Let's find out what the other requirements are.
Financial manager license and certification
Certification is optional for many job positions. But if you want to improve your skills and knowledge, you should always opt for professional certifications. 
Some of the certifications you can look into are:
Certified Financial Planner (CFP)
Chartered Financial Analyst (CFA)
Chartered Investment Counselor (CIC)
Certified Government Financial Manager (CGFM)
Financial Risk Manager (FRM)
Applicants with any of these certifications demonstrate high competence and vast knowledge in ethical and professional standards, economics, accounting, financial planning, and management. 
Financial manager experience requirements
Relevant work experience is another crucial step to becoming a financial manager. You can begin by working in a finance-related position to reach your goal. Some of the jobs you can look into are:
Budget analyst 
Financial Assistant
Financial Advisor
Loan Officer
Insurance Underwriter
During the work experience, you will come across many helpful individuals who can guide you in your career journey. Experience also helps you create a strong network within the industry. 
Financial manager skills
During your study years and work experience, you will develop new abilities and improve your current skills. It would help if you focused on developing new financial skills. Since every branch of finance management uses statistics for operations, you should focus on the followings: 
Statistical proficiency
Financial literacy
Analytical skills
Problem-solving skills
Mathematical proficiency
All of the above will help you perform better at your job. You will be prepared and ready to develop practical solutions even in the most challenging situations. 
As one of the leaders in the financial team, you should also create healthy relationships with others. In your position as a manager, you have to make decisions and communicate everything effectively. To do your best, focus on improving these skills:
Interested in pursuing a degree?
Fill out the form and get all admission information you need regarding your chosen program.
This will only take a moment.
Communication 
Leadership skills
Adaptability
Decision-making. 
Now that you no longer need to wonder, "What are the qualifications for a finance manager?" we can talk about the time it takes to become one. 
How Long Does It Take to Become a Financial Manager?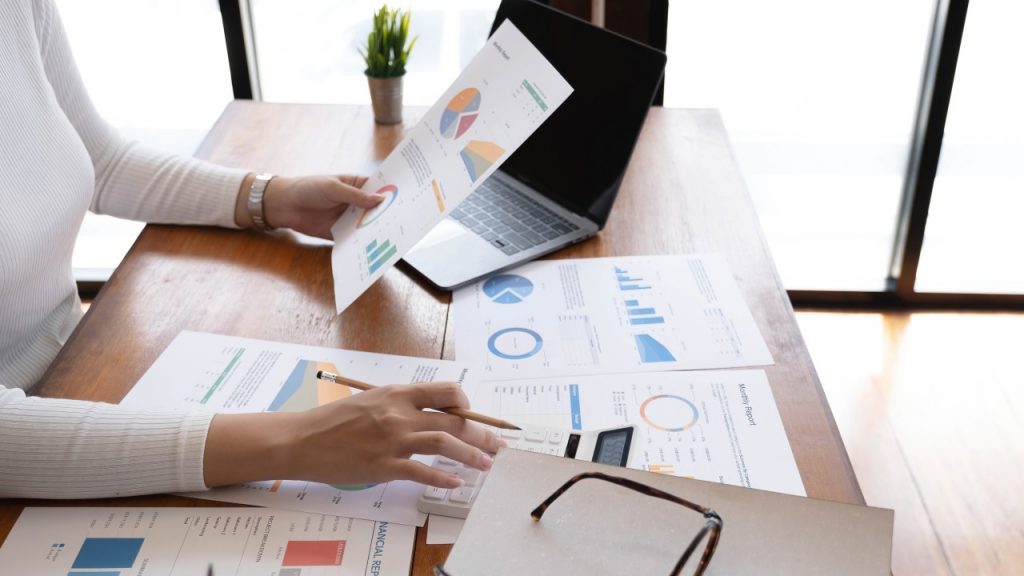 To become a financial manager, you need to have a bachelor's degree, which usually lasts four years. Additionally, you'll need approximately five years of experience in any related fields in accounting or finance, general business. And if we add the time spent pursuing the certification, it all rounds up to approximately ten years. But it is worth the commitment since the financial manager occupation is projected to hit tremendous growth, by 17%, between 2021 and 2031. 
Additionally, there are many career opportunities. Here we have listed only some of the financial management careers that might be of interest in the future:
Controllers 
Treasurers 
Credit managers 
Cash managers
Risk managers
Insurance managers
What Are the Roles and Responsibilities of a Financial Manager?
The financial stability of an organization is the responsibility of the financial managers. They prepare financial reports, oversee investment activities, and plan for the organization's long-term financial objectives.
Financial managers are typically responsible for the following: 
Maximize profits
Prepare business activity reports
Prepare financial statements
Prepare market and business forecasts
Monitor financial details
Supervise other financial employees
Find ways to reduce costs
Review financial reports
Analyze market trends
Advise management regarding financial decisions 
Advise top executives in final financial decisions
The Bottom Line
If you're committed to a finance career, you may be interested in working as a financial manager. You can easily succeed in this career with the right combination of education, experience, and skills. Start with a bachelor's degree, get certified to get recognized, and find a job. 
Since all industries recognize the need for capable financial managers, it should be your call to work hard, land a job with a prospect and achieve job satisfaction.