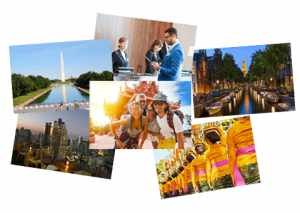 In today's economy, hardly anyone goes to college simply for the sake of self-improvement. It's a significant investment, both in terms of time and money, so getting something out of your degree is crucial. If the degree cannot help you start a long and successful career, you may look elsewhere.
That qualifier is exactly what makes a Hospitality and Tourism Degree so beneficial. You will not only learn the skills and knowledge necessary for a variety of careers within this field, but you'll also become a part of one of the largest industries around the globe. Naturally, that means excellent employment and career opportunities after graduation.
The Global Tourism Industry
Once you think about it, the number makes perfect sense. With more than $7.26 trillion dollars spent worldwide, the global tourism industry is among the largest verticals in the world. Each year, 900 million passengers fly to and from the United States alone, and that number is magnified once expanded around the globe.
The exact nature of that tourism, of course, can take many shapes and forms. From luxury travel to the Caribbean to backpacking journeys to Thailand, everyone understands 'travel' as something unique and different. Take all of them together, and you have a global powerhouse that's not about to stop being popular anytime soon.
The Need for Skilled Labor
Anywhere people travel, the need for skilled labor exists. From trip planners to hotel managers, billions of tourists around the world require the service of almost as many service professionals working to keep them happy and focused on their trip.
An increasing about of that labor, of course, has to be skilled. The internet has opened up new possibilities and complications in the global tourism industry, which the modern workforce will need to contend with. Whether a millionaire is planning a yacht cruise or a college student is looking for ways to spend their gap year, professionals will need to jump in and guide them in both the planning and execution of their travels.
A Flexible Degree With a Sharp Focus
That's where the Hospitality and Tourism degree comes into play. The curriculum is designed specifically to be flexible; you won't graduate only qualified to be a hotel manager. Instead, you'll have the communication and management skills necessary to take on any leading job and career within the tourism industry.
At the same time, that flexibility does not take away from the focus you need to be successful in this major industry. Ultimately, anyone working in or even adjacent to hospitality and tourism will need one skill above all: customer communication. A service focus is crucial to succeeding, which is why finding a degree that offers that focus is absolutely essential. Without it, you will struggle to find a lasting and successful career in the field.
Finding the Right School For Your Degree
In other words, the key to success in entering one of the largest industries in the world is to find a degree that prepares you ideally for it. That's where we enter the equation. The University of the Potomac prides itself not just on high-quality classes, but also a comprehensive field work program that gets you in touch with some of the largest hospitality and tourism management companies in the Washington, D.C. area.
As a result, you will get the theoretical knowledge needed to succeed, and the practical experience necessary to thrive in the industry. Interdisciplinary classes mean that you don't have to limit yourself to a single position within hospitality or tourism; but by the time you graduate, you'll be ideally prepared to get a head start. To learn more about our degree, contact us.